On Campus
Japanese Cherry Trees are Always in Bloom at American University Library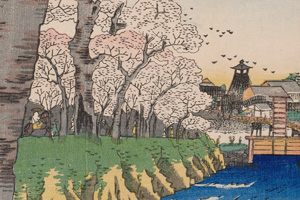 Because of the terrible natural disaster in Japan, the spring appearance of the cherry blossoms in Washington will be especially poignant this year. The blossoms are an annual reminder of Japan's gift of 3,000 cherry trees presented to the United States 99 years ago and the special friendship between the two countries. The University Library also has a permanent gift of beautiful Japanese art, the Spinks Collection, in Archives and Special Collections.
The Spinks Collection was donated to AU Library during the 1970s by Charles Nelson Spinks who was in the Foreign Service in the Far East for many years. Spinks began collecting works of Japanese art and history as early as the 1930s. The collection features works from the 17th through the 20th centuries, including work of Japanese Ukiyo-e artists Hiroshige and Hokusai as well as examples of Sogoruku board games.
Ando Hiroshige is a famous ukiyo-e artist. Ukiyo-e literally means "floating world," a world of transitory beauty that can be captured only by art. The library is fortunate to have a copy of the Reisho edition of Hiroshige's The Fifty-Three Stations of the Tokaido. Each of the woodblock prints captures scenery—including blooming cherry trees—that made a deep impression on Hiroshige as he travelled in 1833-1834 along the Tokaido, the eastern sea road that connected Osaka and Kyoto with Tokyo (formerly Edo). The road was about 300 miles long and ran mostly along the Pacific coast of the island of Honshu. It was well-known for the picturesque views captured by Hiroshige and permanently preserved in his art and also in the AU Library.
More information about the Spinks Collection can be found here. Prints can be viewed here.