First Person
Commitment Earns Bylines and Sense of Belonging for Intern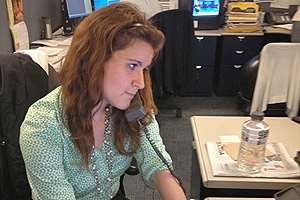 Below is a first person account from Dean's Intern Rachel Karas on her ongoing internship at the Washington Post.
When you manage to land an internship that makes everything else you do seem insignificant, you've gotten something right. When senior year becomes a cycle of waiting out your classes just to be able to go back to work, when you'd rather spend a late night at the office than return to campus life, when you find the balance of "student reporter" increasingly tipping toward the latter – you've found your place.
For the past year, this – a place of professional belonging – is what The Washington Post has given me. My first semester at 15th and L was an introductory course, bright-eyed and bushy-tailed at the prospect of working at the heralded paper. Now, this is just normal, everyday life – I'm a Washington Post reporter, part of the team, a working professional. The friends made and mentors gained will hopefully remain for years to come, and I will continue to strive to meet the standards set by the best in the industry.
My second semester as a Dean's Intern has been fantastic in its own right, building on the experiences of spring 2012. I've seen a newsroom in crisis – Hurricane Sandy, the Newtown shootings – and I've done more political work this time around: calling poll respondents to chat about same-sex marriage and the DREAM Act, reporting on the area's voting preparations in October and on Election Day at D.C. precincts and nighttime watch parties, to name a few. When Obama was re-elected, a group of us walked to the White House to witness the festivities as well. As a journalism student in D.C., I can't imagine a better night, and I wouldn't have rather experienced it with anyone else.
My greatest professional accomplishment also came in November: when Maryland approved a new casino in National Harbor, I co-wrote a story about the area's possible transformation that was published on A1. Ask my friends – I've never squealed as much as when I saw that front page.
I am thankful to have an employer that inspires me to grow, to write more and contribute to all aspects of the newsroom, but I am also thankful for the understanding of what it means to juggle 15 credit hours and the desire to spend every waking moment on the job. All too often the student end of "student reporter" creeps back in, threatening me with papers and textbooks and sleep deprivation, and I only regret that I can't devote more time to doing what I love with the paper I love.
I'm still learning, hoping this semester to be a bit faster on deadline and thorough in my questions, but I'm proud of the work I've done and grateful for the continuing opportunity. Regardless of what happens after graduation in May, there has been no more pivotal experience in my career than being Rachel S. Karas for The Washington Post. After a year and a half, I can only hope I'll have given them as much as they have given me.