First Person
Bolivia Bailable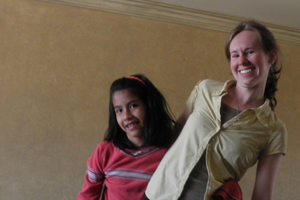 On the surface, Bolivia and ballet don't mix well. The former is often associated with Evo Morales and coca, while the latter is known for very different things: pointe shoes, men in tights, and lots of tulle. This summer, however, the distinct worlds of ballet and Bolivia collided, not on a stage, but in an orphanage. For those who missed the performance, I can sum it up in one word: precious. How I ended up in Bolivia requires a little more explanation.

The Maryknoll Missionaries, a Catholic missionary society, sponsor a short-term mission immersion program in Cochabamba that first caught my eye in an internet search a couple years ago. This summer, the halfway point in my master's program in Spanish: Latin American Studies, seemed like the right time to give it a try.  Consequently, I headed off to Bolivia at the beginning of June for a six-week stint as a Maryknoll volunteer. Though I had no connection to Bolivia when I was welcomed into the Maryknoll community, on a certain level, volunteering felt like a very natural thing to do, not just because I study Latin America, but also because I have an unshakeable belief in the value of immersion in other cultures, helping where I can, and experiencing first-hand what I am learning in the classroom.

Despite my convictions, I was still nervous when the director of the volunteer program picked me up from the airport in Cochabamba and drove me to the volunteer house where I would be staying. On that drive, thousands of miles away from home, we passed familiar sights—apartment buildings, billboards, restaurants—and plenty of unfamiliar ones: horses running wild around a lake, a street corner where people sell fresh donkey milk (as in straight from the donkeys they bring to the corner), and women wearing traditional indigenous dress.  Overall, the city seemed impossible to navigate. It hit me, then, that I was not on vacation and I was not in a classroom.  There would be no hotels or room service and there would be no tests.  My time in Bolivia was in my hands to shape. I could be open, flexible, and willing to connect with the people around me or I could stay rooted in my own culture, ever aware of the fact that my time in Bolivia was limited and that I would eventually return to the comforts of home.

Though I opted for the path of openness and flexibility, it was not always easy.  Indeed, I experienced some pretty rotten moments during my first week in Bolivia that included the experience of getting lost, "GI problems," and some intensely frustrating hours working with babies and toddlers at an orphanage for children under five.  The following weeks included their own share of challenging experiences: an aggressive robbery, five trips to a police station to obtain a report of the robbery, and "showering" with water from a pot.  Once I settled into a routine, however, my time in Bolivia became both meaningful and enjoyable.

While each week was distinct and while I had time to both explore the city and participate in several wonderful, one-time events, such as a reunion of Catholic young adults and a conference on women's sexual and reproductive rights, my volunteering and church activities gave structure to my days.  These activities included visiting local prisons, participating in faith-sharing meetings at the chapel next door to my house, attending lectures on Bolivian culture, and joining my Bolivian neighbors for church services.   In addition, I spent several hours each week visiting an orphanage for girls.  While there, I combined my knowledge of Spanish and training in classical ballet to teach classes to girls in interested in dance.    

More often than not, these classes turned into what could be described as a "dance fest" complete with endless requests to try on my pointe shoes.  The chaos, though, was all great fun, and some of my most joyful hours in Bolivia were the ones I spent at the home teaching ballet, letting the girls braid my hair, and reading stories on the bright patio in back of the house.  Of these hours, the most precious were, truly, the ones that the girls and I spent dancing.  We stretched and twirled, leapt and swayed and danced to everything from classical music to Justin Bieber and Mexican Pop.  At these times, the "big issues" that often occupied my thoughts, such as the poverty, abandonment, and abuse that brought the girls to the home, did not matter as much as the task at hand: having fun through movement.  At these times, I even forgot about the big issues and my constant hope was that the girls could forget about them as well.

Just before I left Cochabamba, one of the Maryknoll missionaries with whom I lived gave me a CD of Bolivian music.  The cover claimed that each song was "100% Bailable" or, in English, "100% Danceable."  Though this sounded funny, it turned out to be true; as a matter of fact, it even occurred to me that "bailable" provides a good description of not only the songs on the CD but also of my time in Bolivia and Bolivia itself.  

Why?  Well, because Bolivia has its own rhythm of life, a rhythm that, like the one on the CD, is hard to resist even if adapting to it is hard.  Bolivians move to it on a daily basis and visitors can move to it as well, provided they have the patience to learn the Bolivian way of approaching life, that is, of approaching everything from riding buses (which don't have fixed stops in Cochabamba), to buying milk (don't look for a carton—it comes in a bag), to ending a meal (say "gracias" to those around you), to having a meeting (don't expect it to start on time).   

As far as my time own time in Bolivia is concerned, I am certain that, through all the dancing I did at the orphanage, at Maryknoll celebrations and, figuratively, as I moved through my days, a connection was established between Bolivia and me, a connection more vibrant and deep than any that can be established through classroom learning alone.  For this connection and for the opportunity to dance my way through Cochabamba, I am very grateful. "Bolivia Bailable" introduced me to a new rhythm of life and it is one that will move me for a long time to come.