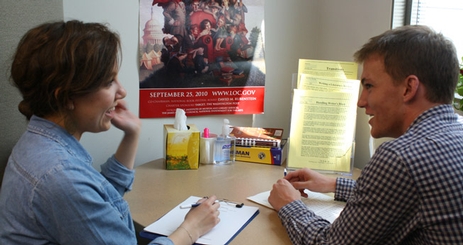 "Students prepare papers, we prepare students."

In free, 45-minute consultations, we will work with you on issues such as:
Interpreting a writing assignment
Generating ideas
Locating and sharpening a thesis statement
Organizing ideas and research
Developing logical arguments
Polishing your prose
Finding strategies for revising
Identifying recurrent errors
Please see our FAQ for more details — and see Writing Consultants if interested in becoming one.
Summer Sessions
May 20 – August 8
We have no scheduled hours in the summer, so please e-mail wcenter@american.edu to make your appointment and leave your

• name and phone #
• paper due date
• day and time you'd like to come

for your free individual coaching session.
The consultant will contact you within 24 hours.

Check Out Our Blog

See the Writing Center blog at
auwritingcenter.blogspot.com

---