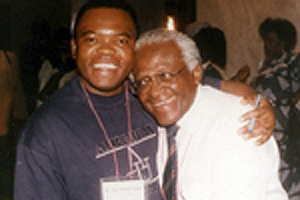 Rev. Ngoy D. Mulunda-Nyanga and Archbishop Desmond Tutu pictured celebrating the release of Mulunda-Nyanga's first book entitled The Reconstruction of Africa: Faith and Freedom for a Conflicted Continent (All African Council of Churches 1997)
Rev. Ngoy D. Mulunda-Nyanga
Alumna of American University's dual master's program in International Peace and Conflict Resolution and Theological Studies with the Wesley Theological Seminary, Mulunda-Nyanga now serves as Executive Secretary for International Affairs of the All Africa Conference of Churches based in Nairobi, Kenya.
The end of the cold war was seen by many oppressed Africans as an opportunity to revisit issues related to justice and human rights. Released from the cold war parameters, the African continent exploded giving expression to deep rooted and protracted conflicts. From North to South, from East to West, there were cries of death, destruction and genocide. Nor were the churches spared from violence. The killing of more than 500 Christians in Liberia in 1990, the use of churches as sites of massacre in Rwanda, the killing of church ministers in conflict situations challenge the churches to take seriously the ministry of peace making and conflict resolution.
The fact that most African Churches are at once identified with certain tribal groups and with western denominations, is a blessing and a challenge to church leaders. Tribal identity serves as a blessing when church leaders use their moral authority to address their respective constituencies and work toward the articulation of a common identity. Identification with a tribe or an ethnic group at this time creates trust and hope among the members of the community. If a priest exercises the prophetic role in this context, African churches, in contrast to churches in other cultures of the world, stand a big chance of being heard and influencing the community of life. The churches function as the engine of the community while the minister represents the people and speaks on their behalf.
Thus the priest's role is both pastoral and representational. It is important to remember that in ancient times the priest served both as religious leader and as civil ruler. In most African communities, the priest is not a trained theologian and a church worker, but a community representative. With this background, it is impossible for the churches in Africa to be indifferent when people die violent deaths and when the church exercises its pastoral care, in times of sorrow and grief, it is most readily heard.