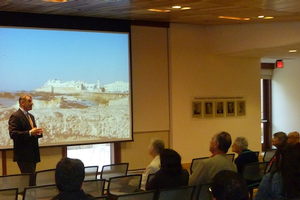 Mexican author Alberto Ruy Sánchez delivers a lecture on his collection of novels.
The Center for Latin American and Latino Studies (CLALS) and the Mexican National Council for Culture and the Arts (El Consejo Nacional para la Cultura y las Artes-Conaculta) are pleased to announce a collaborative arts-based initiative. Under the auspices of the Cátedra Cultura de México, CONACULTA selects distinguished Mexican artists to visit the AU community, deliver public lectures, and engage faculty and experts in Washington, DC. American University joins an exclusive list of universities that partner with this Mexican government program, including Brown, Harvard, Princeton, the City College of New York, the University of California system and the University of Chicago.

Past Events
Élmer Mendoza

On January 31, 2013, Mexican playwright, storyteller and novelist Élmer Mendoza came to AU to present a lecture on his work, the majority of which explores the influences of the drug economy on Mexican society. Winner of the 2007 Tusquets Award for his novel Balas de plata, Élmer Mendoza is widely considered the foremost figure in a new crime fiction genre known as "narcoliterature." Mendoza is currently professor of literature at the Universidad Autónoma de Sinaloa. After the lecture, Mendoza and AU faculty participated in a panel discussion.
An interview with Mendoza by CLALS Research Fellow Héctor Silva appeared as an article in La Prensa Gráfica.

Alberto Ruy Sánchez
In September 2012, CLALS welcomed prominent Mexican author Alberto Ruy Sánchez, who delivered a lecture on the literary journey that led to El Quinteto de Mogador, a five-novel series born out the author's travels between Mexico and Morocco.