Second Project Workshop - São Paulo, Brazil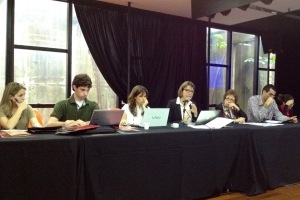 November 12-14, 2012

A group of 30 scholars from 6 countries and 18 academic institutions in the Americas gathered in São Paulo for the third meeting of the Hemisphere in Flux project. Convened by INCT-INEU of Brazil, CRIES of Argentina, and the Center for Latin American and Latino Studies at American University, the project seeks to produce cutting-edge knowledge about the current transformations of inter-American relations.

The participants presented papers around the three thematic areas of the project: 1) Country strategies and capabilities in Hemispheric affairs; 2) Regionalism and inter-governmental institutions in the Americas; and 3) Regional mechanisms across key issue areas in the Americas.
 
The papers presented at this conference will result in different publications, including a number of edited volumes in English, Spanish, and Portuguese, journal articles, and working papers.