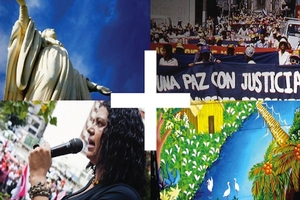 The Religion and Democratic Contestation Initiative is focused on improving our understanding of religious responses to emergent rights-based social justice mobilizations in Latin American democracies. Building on a now completed project focused on the relationship of religion to violence in Latin America under circumstances both of dictatorship and democracy, the present initiative seeks to describe and compare how religious actors, organizations, and hierarchies are currently participating in transnational, national and local advocacy associated with two widespread sources of conflicts characteristic of the region's democracies: conflicts over extractive resources and relating to environmental and climate justice, on the one hand, and contestation relating to gender and sexuality, on the other. In so doing, this initiative plans to assess the extent of continuity and change in religious approaches to rights and justice in Latin America, from the past to the present.

The environment and gender were chosen as topics to organize the current project, given the evident public debate and social contestation these two questions generate in Latin America today, and our assessment that public perceptions of these issues are changing. This project gives particular attention to interactions between religion and governments, religious and civil society actors, and between local and transnational advocacy networks, including the role of religious actors in the creation and application of the law. A primary project goal is to identify and explain the range of variation of religious orientations to rights, justice and to the law. A second goal is to identify the sources of specific conceptions of rights and justice for religious advocacy, as articulated by theological concepts and positions, by local, and national engagements, but also by religious participation in transnational advocacy networks dedicated to these issues.
An initial planning meeting, which convened scholars from the U.S., Europe and Latin America, was held in Washington, DC, in February 2014. This meeting included a public forum on the relationship of religious advocacy to both justice and rights in contemporary Latin America. In November 2014, also in Washington, DC, CLALS convened a group of leading researchers, who presented original case-driven research as part of a day-long meeting concerned with the ways religion has shaped public agendas around gender and the environment in Latin America. This meeting was followed by a public forum on "religion, sex, and nature" in diverse social justice movements across the region. The project also sponsored a panel at the annual meeting of the Latin American Studies Association in May 2015 in San Juan, Puerto Rico, which highlighted one part of this ongoing work, the challenge posed by indigenous peoples and their cosmologies to global environmental debate. In July 2015, we held a third meeting on religion and climate change in comparative regional perspective. Together with the Pulitzer Center on Crisis Reporting, we hosted a public workshop in September 2015 on religion, journalism, and climate change, which will assessed the impact of the papal encyclical on the environment. Finally, with the Washington College of Law's Impact Litigation Project and also in October 2015, we are planning another workshop on the influence of religious family law on the rights of LGBT parents and children.
This project is directed by Robert Albro, a Research Associate Professor at CLALS, together with the Center's Director, Eric Hershberg, and co-Principal Investigators, Evan Berry, currently an Associate Professor of Philosophy and Religion and co-director of the Ethics, Peace, and Global Affairs Master's Program at American University, and Macarena Sáez, Director of the Impact Litigation Project at American University's Washington College of Law. This project is supported by a two-year grant of $300,000 from the Henry Luce Foundation.