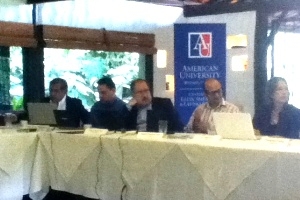 Manuel Torres, Ricardo Barrientos, Hugo Noé Pino, Aaron Schneider and Elizabeth Oglesby (left to right) participating in the project seminar in Costa Rica.
Costa Rica 2012: Second Project Seminar

The Reconfiguration of Elites and Power in Central America project held a three-day seminar in San José, Costa Rica, November 1-3, 2012, to discuss and debate commissioned papers and the project's progress. Highlights of the seminar included the following:

Representatives from ICEFI delivered a general outline of a publication that will be composed of five country studies exploring how elites exercise power within the fiscal arena;
Territory remains a cutting-edge method to expand accumulation in Central America. PRISMA representatives presented ideas which will lead to an edited volume on the topic, with in-depth examinations of the regions of Péten and Mosquitia;
Participants revisited the historical essay commissioned on Honduras, and argued that given recent political events including the 2009 coup, the country was an outlier in the periodization of rupture;
Papers commissioned on the axes of accumulation in Guatemala, El Salvador and Costa Rica were reviewed and ideas were exchanged regarding drafts for Nicaragua and Honduras;
Elites do not exist without a relationship to the state. Discussions were held on the continuing importance of state formation in the face of globalization and how the implementation of structural adjustment policies has affected equality within Central American societies;
The current landscape of elites in the region was discussed, including the emergence of sharp divisions of elites within Costa Rica in relationship to the passage of CAFTA, the role of elites in the media, and ideas for a paper on intellectual or "organic" elites.
Papers discussed at the event have been uploaded here. Additional events associated with the project will include the dissemination of research findings within the region in the first half of 2013, and the sponsorship of two sessions at the 2013 LASA Congress: a panel presenting the project's findings and a workshop on elites and the fiscal arena.