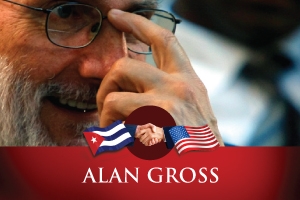 Photo credit: Cuba Debate / Flickr / Creative Commons
American Released by Cuba Plays Role as U.S. Relations with Havana Thaw
By Randal C. Archibold (New York Times, May 2, 2015)
After being imprisoned in Cuba for five years, Alan Gross is contemplating returning there in an effort to improve U.S.-Cuba relations. Drawing upon his experiences in Cuba, Gross is working on behalf of New Cuba, a bi-partisan Political Action Committee (PAC) that seeks to improve bilateral relations between the two countries and to combat U.S.-Cuba Democracy, a pro-embargo PAC. Since his return, Gross has become a "loquacious commentator" on Twitter about U.S.-Cuban affairs and has "testified in Congress in support of restoring diplomatic relations."
Link to full text via New York Times
Alan Gross statement on coming home from Cuba
By Alan Gross (Baltimore Sun, December 17, 2014)
Upon returning home after five years of imprisonment in Cuba, Gross expresses gratitude to all those who worked to make his homecoming possible, mentioning by name President Obama and many other family members, friends, and supporters.Gross also speaks of his continued respect for the Cuban people, his disapproval of what he terms to be the "mutually belligerent" U.S. and Cuban policies, and his support for President's Obama's opening to Cuba.
Link to full text via the Baltimore Sun
Secrecy, politics at heart of Cuba project
(Along the Malecón, January 2013)
This blog entry documents the case of Alan Gross from the point that DAI was awarded the USAID contract to Gross's imprisonment.
Kerry, Leahy, Menendez Questions and Answers on the effectiveness of democracy programs worldwide
(February 2012)
Senators Kerry, Leahy, and Menendez answer eight questions regarding the USAID Cuba Program in Cuba, stressing metrics, strengths and weaknesses, impact, numbers of people assisted, the extent of the program, effectiveness, legal risks, and requirements.
Our Man in Havana
By R. M. Schneiderman (Foreign Affairs, December 2012)
Describing what happened to Alan Gross and what has happened in the United States since his arrest, this Foreign Affairs article attempts to unravel much of the misunderstandings surrounding this case. It explains why Alan Gross was arrested and why the United States has been unable, or unwilling, to bring him back to his native country. It further speculates how the Obama administration might readdress this issue in a changing political climate.
Link to the article via Foreign Affairs
Alan Gross and Judith Gross, Plaintiffs, v. Development Alternatives, Inc. and the United States of America, Defendants 
(Trial began in November 2012)
The following documents were submitted as evidence in Case 1:12-cv-01860-JEB in United States District Court for the District of Columbia
DAI Response to the suit filed - (January 2013)
Declaration of John Henry McCarthy - John Henry McCarthy acted as the DAI Chief of Party for the "Cuba Program Task Order" (January 2013)
Development Alternative Inc. Contract Modification No. 5- extending the JBDC's period of performance and activities (October 2009)
DAI Subcontract - Proposed expansion by JBDC of the Scope of Work - (September 2009)
USAID Competitive Task Order - (Issued in May 2008)
USAID contractor work in Cuba detailed
By Desmond Butler (Associated Press investigative report, February 2012)
This article attempts to clarify many of the misconceptions about Alan Gross and explains his role in Cuba as a development contractor. It offers alternative perspectives on Gross's work, which provided illegal technological infrastructure that allowed for uncensored use of the Internet. Chronologically listing the events leading up to his arrest, this article summarizes Alan Gross's work and the details of his imprisonment.
Hearing Room on Crimes Against the Security of the State
(Popular Provincial Court Havana, March 2011)
This hearing documents the evidence presented by the defense and prosecution in the Popular Provincial Court of Havana, and the decision of the court to convict Alan Gross to 15 years in prison for "Acts Against the Independence or Territorial Integrity of the State."