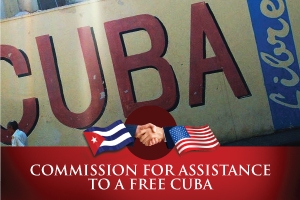 Photo credit: Cmrlee / Flickr / Creative Commons
In 2003 George W. Bush mandated the creation of the Commission for a Free Cuba. The commission has two main goals: to aid the Cuban people to end the Castro regime and to plan for ways in which the U.S. Government can deliver assistance to the Cuban people during the period of transition to democracy. 
Commission for a Free Cuba: Report to the President

(Chair: Secretary of State, Condoleezza Rice, July 2006)

This report was written as Castro was preparing to hand control of the country over to Raul Castro. The Commission indicates that this important juncture could lead to a transition government, not a succession. The report reiterates the importance of continuing to provide support that would bring about political change. It also details future U.S. plans to encourage market-based economic opportunities, free and fair elections, and responses to humanitarian and social needs, once a transition government is in place.

Commission for a Free Cuba: Report to the President

(Chair: Secretary of State, Colin L. Powell, May 2004)

The Commission's first report seeks to form a more integral U.S. strategy toward Cuba, and includes chapters on effectively hastening Cuba's transition to democracy, meeting short-term and long-term humanitarian needs, establishing respect for human rights, establishing free-market institutions, modernizing infrastructure, and addressing environmental degradation. The Commission makes various recommendations including the restriction of family travel to Cuba.