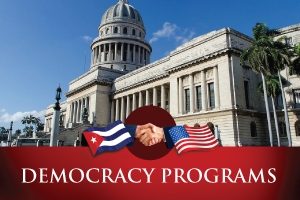 Photo credit: Richard Pluck / Flickr / Creative Commons
U.S. law authorizes aid for nonviolent democratic change in Cuba. The Department of State and USAID have awarded grants to support such change.
US co-opted Cuba's hip-hop scene to spark change
By Desmond Butler, Michael Weissenstein, Laura Wides-Munoz and Andrea Rodriguez (Associated Press, December 11, 2014)
This article reveals how USAID gained access to Cuba's underground hip-hop movement and recruited some unsuspecting rappers with the goal of inciting a youth movement against the government. The authors evaluate the operation as "amateurish and profoundly unsuccessful."
Link to full article via Associated Press

'CUBAN TWITTER', OVERTLY POLITICAL, POKING CASTROS
BY JACK GILLUM, DESMOND BUTLER AND PETER ORSI (ASSOCIATED PRESS BIG STORY, APRIL 8, 2014)
Gillum, Butler and Orsi question the credibility of the Obama Administration's claims that ZunZuneo (USAID's secret "Cuban Twitter" that evaded Cuba's Internet restrictions through a text-messaging service) was not meant to foment unrest on the island, but instead to "support access to information and to allow people to communicate with each other." They cover a session during which U.S. lawmakers interrogated USAID administrator Rajiv Shah about the program's risks, political nature and lack of transparency. The authors assert that documents they obtained about the project were overtly political and satirized Cuban authorities, including the Castro brothers.
Link to the full text via AP: The Big Story
EIGHT FACTS ABOUT ZUNZUNEO
BY MATT HERRICK (U.S. AGENCY FOR INTERNATIONAL DEVELOPMENT BLOG, APRIL 7, 2014)
In this blog post, USAID spokesperson Herrick dismisses allegations made about the Twitter-like social media platform, ZunZuneo, that USAID had previously implemented in Cuba, claiming that an April 3rd Associated Press article "contained significant inaccuracies and false conclusions" about ZunZuneo and also about USAID's democracy and governance work in Cuba. He counters eight specific claims made by the article's authors, maintaining that the program was not "covert," but "discreet," nor meant to "trigger unrest" but to foment user-generated content, etc.
Link to the full text via USAID Blog
US SECRETLY CREATED 'CUBAN TWITTER' TO STIR UNREST
BY DESMOND BUTLER, JACK GILLUM AND ALBERTO ARCE (ASSOCIATED PRESS BIG STORY, APRIL 4, 2014)
This article reveals that, in 2009, the U.S. Agency for International Development created a Cuban version of Twitter (dubbed ZunZuneo) with the goal of evading Cuban internet restrictions and undermining the communist government. Built with secret shell companies and financed through foreign banks in order to conceal the U.S. government's role, the project lasted for more than two years and drew tens of thousands of subscribers, who were unaware of the project's origins or objectives. A lack of funding led to the shutdown of the project in 2012.
Link to the full text via AP: The Big Story
CUBA DEMOCRACY ASSISTANCE: USAID's Program Is Improved, but State Could Better Monitor Its Implementing Partners
GAO Report, January 2013
For this report, GAO identified current assistance, implementing partners, subpartners, and beneficiaries; reviewed USAID's and State's efforts to implement the program in accordance with U.S. laws and regulations and to address program risks; and examined USAID's and State's monitoring of the use of program funds. 
DEMOCRACY ASSISTANCE: U.S. Agencies Take Steps to Coordinate International Programs but Lack Information on Some U.S.-funded Activities
GAO Report, September 2009
In 2006, GAO found weaknesses in program oversight that increased the risk of grantees' using grant funds improperly and failing to comply with U.S. laws. In 2008, misuse of grant funds at organizations with the program's two largest grants was detected.

Foreign Assistance: Continued Efforts Needed to Strengthen USAID's Oversight of U.S. Democracy Assistance for Cuba
GAO Report, November 2008
In this report, GAO was asked to examine actions that USAID has taken since 2006, or plans to take, to improve its award and oversight of the Cuba Program's grants; and actions that USAID has taken in response to the recently detected misuses of grant funds.

FOREIGN ASSISTANCE: U.S. Democracy Assistance for Cuba Needs Better Management and Oversight
GAO Report, November 2006
This report examines agency roles in implementing this aid and selection of grantees; types of aid, recipients, and methods of delivery reported in 2005; oversight of grantees; and data about the impact of this aid. 
Congressional Budget Justifications for the USAID Cuba Program, FY 2011 through FY 2014 are available below:
Evaluation of the USAID Cuba Program
(PricewaterhouseCoopers, 2000)
USAID hired PricewaterhouseCoopers LLP (PwC) in February 2000 to conduct an evaluation of the USAID Cuba Program. The evaluation team finds USAID's administration of the Cuba Program to be satisfactory and effective, particularly in recognition of the fact that it takes place in such a difficult political context and is subjected to constant crosscutting pressures. The Program would benefit from an increase in staff at USAID headquarters and in Havana, the adoption of a research agenda to guide planning and to inform Program activities, expanded information sharing and cooperation among grantees, and improved measurement of Program performance.