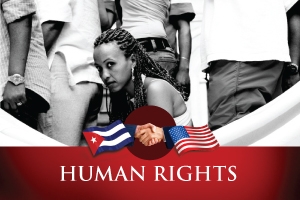 Photo Credit: Rinoplatania / Flickr / Creative Commons
Cuba's Emerging LGBT Nightlife Comes into Focus
By Johnny Simon and Rebecca Sanchez (MSNBC.com, April 8, 2015)
This article discusses the multifaceted nature of Cuba's LGBT community, as well as changes in the political landscape in terms of the country's anti-gay laws. Simon and Sanchez describe life for LGBT people under Fidel Castro, whose experiences ranged from imprisonment and forced labor during the early years of the revolution to a gain in rights following the decriminalization of homosexuality in 1979 and Castro's public disavowal of his anti-gay stance in 1993.
Link to full text via MSNBC.com
Cuba, USA Talks on Human Rights to be Continued
(Prensa Latina News Agency, April 1, 2015)
Prensa Latina reports that, despite profoundly different visions on human rights, Cuba and the United States completed their first meetings on this subject. Both countries expressed a deep commitment to human rights, while also voicing concerns for the areas in which they perceive the other country to have violated these rights. The success of these meetings laid the foundation for proposed talks in the future.
Link to full text via Prensa Latina
U.S., Cuba hold first formal talks on human rights
(Reuters, March 31, 2015)
In a preliminary meeting in March, Cuba and the United States discussed their plans for future dialogue on the "thorny issue of human rights as the two countries move toward restoring diplomatic ties." While a State Department representative emphasized the U.S.'s continued focus on human rights and democratic principals in Cuba, his Cuban counterpart repeated the island's demand for sovereignty and cited the events in Ferguson, Missouri as proof of the U.S. government's human rights violations.
Statement by the Minister of Foreign Affairs of Cuba at the High-Level Segment of the 28th session of the Human Rights Council
By Bruno Rodríguez Parrilla (MINREX, March 2, 2015)
In accordance with its long tradition of voicing its opinion about the necessity of universal human rights, Cuba called for the rights and freedoms of poor and marginalized citizens to be upheld amidst an unequal international order that privileges developed countries. In his speech, the Minister of Foreign Affairs questioned the legitimacy of electoral systems manipulated by the media and questionable financing, expressed concern about the low unionization rates of some important western economies, and supported the "inalienable right of the Palestinian people to a state of their own," among other declarations.
Cuba Report on Legal and Punitive Actions against Trafficking in Persons and other forms of Sexual Abuse (2013)
(MINREX, December 23, 2014)
In this document, Cuba outlines its zero-tolerance policy for sex trafficking and sexual exploitation. It lays out specific sentencing guidelines and other legal repercussions for perpetrators of any sex/human trafficking crime, and reiterates its commitment to protecting victims.
Trafficking in Persons Report 2014 - Cuba Country Narrative
(U.S. State Department, 2014)
The U.S. government's annual Trafficking in Persons(TIP) Report provides information on the scope and nature of human trafficking worldwide. In 2014, the TIP Report ranked Cuba as a Tier 3 country, due to evidence of sex trafficking of both adults and children and inadequate efforts by the Cuban government to comply with minimum standards for eliminating trafficking.
Download Country Narratives: A-C
2014 World Report on Cuba
(Human Rights Watch, 2014)
This report details how the Cuban government has become increasingly brutal and draconian to instill fear and punish dissenters. It includes information about government-sponsored beatings, threats, and imprisonments that target journalists, activists, and dissidents.
Link to full text via Human Rights Watch
Candidature of Cuba to the Human Rights Council, 2014-2016
(UN Human Rights Council, September 2013)
The Government of Cuba put forth its candidacy to the Human Rights Council for the period of 2014 to 2016. Included with this request are Cuba's voluntary pledges and commitments to the Council, which generally ensure its commitment to human rights and to cooperate with the international community.
Cuba Report 2012
(Human Rights Watch, January 2013)
This report summarizes human rights violations perpetrated by the Cuban government. Cuba remains the only country in Latin America that represses virtually all forms of political dissent. In 2012, the government of Raúl Castro continued to enforce political conformity using short-term detentions, beatings, public acts of repudiation, travel restrictions, and forced exile.
Report on Human Rights in Cuba
(Amnesty International, 2012)
Like the U.S. Department of State's report, this document explores changes in human rights violations from 2012. Key findings include higher levels of repression of free speech and movement, more imprisonments and short-term detainments than the year before.
Link to the full text via Amnesty International
Cuba 2012 Human Rights Report
(U.S. Department of State, 2012)
This report summarizes human rights violations perpetrated by the Cuban government, presenting a list of the main abuses, such as abridgement of the right of citizens to change the government; government threats, intimidation, mobs, harassment, and detentions to prevent free expression and peaceful assembly; and a record number of politically motivated and at times violent short-term detentions.