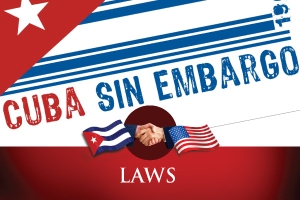 Photo credit: Luiz Claudio Pequeno / Flickr / Creative Commons
Office of Foreign Assets Control Regulations Regarding Cuba
This website offers an online version of rules and regulations about who can and cannot travel to Cuba. It also details restrictions on what can and cannot be brought to and from Cuba, and how remittances are managed.
U.S.-Cuban Relations: An Analytic Compendium of U.S. Policies, Laws & Regulations
Dianne E. Rennack and Mark P. Sullivan (The Atlantic Council, March 2005)

U.S. policy toward Cuba has largely been characterized by a "two-track" model of isolating Cuba through sanctions while providing support to the Cuban population and promoting democratic change through Cuban citizens. This document provides analysis of U.S. policy toward Cuba and incorporates numerous U.S. government documents that detail U.S. policies and positions toward the Island nation. Topics covered include policy statements of the George Bush Administration, comprehensive economic sanctions, diplomatic relations, migration, Guantanamo, the U.S. Government-sponsored radio and television broadcasting to Cuba, and concludes with an essay on possible paths to normalize relations with Cuba.
Trade Sanctions Reform and Export Enhancement Act of 2000

This piece of legislation removes sanctions imposed on nations with which the United States is not at war. The act requires that any entity engaging in the trade of agricultural or medical goods with Cuba or any country providing extensive assistance to Cuba be required to hold one-year licenses issued by the U.S. government.

Cuban Liberty and Democratic Solidarity (Libertad) Act of 1996 (Helms-Burton Act)

The full text of the Helms-Burton Act can be downloaded below, four main goals include: a) strengthening international sanctions against Cuba, b) developing a plan for U.S. assistance to Cuba as it transitions to democracy, c) making the Cuban Government liable for land confiscations of U.S. citizens who previously held claims to the land, and d) to deny a visa to any alien who has trafficked aforementioned property or had any involvement in its confiscation.
Cuban Democracy Act

The Cuban Democracy Act was passed in 1992. The document identifies reasons for implementing the subsequently listed restrictions for numerous reasons, many of which are tied to the denial of the government to honor the rights of its citizens to free speech, assembly, and press. The document delineates the core of the U.S. policy towards Cuba and indicates changes that are to take place should the Castro regime make progress towards democratization.
Current or Recent Alien Adjustment Provisions
Cuban Adjustment
(Public Law 89-732, November 2, 1966, as Amended)
This 1966 law reduces the period that Cuban aliens are required to be continually present in the U.S. prior to applying for permanent residence from 2 years to one year if they arrived after 1959.