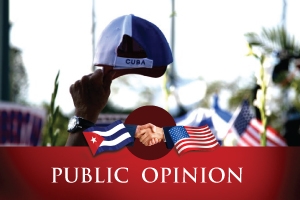 Photo credit: La Shola y El Gringo / Flickr / Creative Commons
Poll: National Questionnaire
(MSNBC/ Telemundo/ Marist, April 2015)
In this national poll, Telemundo and MSNBC measure how Americans in general and Latinos in particular viewed the United States' foreign policy towards Cuba. Compared to non-Latino Americans, Latinos were more likely to support reforming immigration policy, but slightly less likely to support ending the Cuban embargo.
Link to full text via Telemundo
Special Session: Polling Results on Cuban Americans' Viewpoint on the Cuba Opportunity
(Bendixen and Amandi International, March 2015)
In this March 2015 poll, Bendixen and Armani summarized President Obama's December 2014 announcement and then asked Cuban American respondents for their opinions about the normalizations of relations. Data is broken down according to country of origin (Cuba or the U.S.), decade of arrival, age, and state of residence.
New poll shows bipartisan support for Obama's Cuba policy
By David Adams (Reuters, March 11, 2015)
According to a national poll conducted by Beyond the Beltway, a bipartisan majority of Americans now favor opening relations with Cuba, and the numbers are predicted to rise. Although the two countries are moving toward diplomatic normalization under President Obama, the Republican-led Congress has thus far blocked attempts to lift the trade embargo, limiting economic normalization.
Cuba: Historical Trends
(Gallup, February 2015)
In this collection, Gallup highlights the exact questions asked and answers received from polls about U.S.-Cuba issues, which were conducted anywhere between 1974 and 2015.
Americans' Opinion of Cuba Highest in Nearly 20 Years
By Art Swift (Gallup, February 19, 2015)
Based on data from a 2015 Gallup poll, Swift reports that Americans have a more positive perception of Cuba than they have in nearly 20 years, with 46 percent viewing Cuba favorably and 48 percent unfavorably. Forty years of polling show that Americans have consistently wanted to re-establish diplomatic ties with Cuba, excluding for a dip in support around the time of the 1996 Helms Burton Act. Additionally, a majority of Americans favor ending the trade embargo and travel restrictions to Cuba.
THE AP-GfK POLL
(GfK Public Affairs & Corporate Communications, January 2015)
Based on a nationally-representative probability sample of 1,045 general population adults, the Associated Press-GfK poll presents responses recorded between January 29 and February 2, 2015. Participants responded to a variety of questions about their how closely they had followed the news about the U.S. re-establishing diplomatic relations with Cuba, their opinion of these relations, as well as on issues such as the embargo and tourism in Cuba.
Majority of Americans Back Obama on Cuba, Immigration
(WSJ/NBC Poll, January 20, 2015)
In a recent poll, the majority of Americans supported President Obama's foreign policy decisions about Cuba, as well as his immigration policy. Whereas support for President Obama's immigration reform rested mostly on his traditional support base, U.S. support for opening relations with Cuba was shown to cut across partisan, racial, and regional boundaries.
Link to full text via Wall Street Journal
Most Support Stronger U.S. Ties with Cuba
(Pew Research Center, January 16, 2015)
According to polling by the Pew Research Center, most Americans now support opening diplomatic and/or economic relations with Cuba. Although Pew found that Republicans' approval of opening diplomatic relations was less than that of Democrats, as were their levels of optimism about democracy's future on the island, the majority of both sides of the political spectrum still favored both opening diplomatic ties and ending the embargo.
Link to full text via Pew Research Center
How do Americans feel about reestablishing relations with Cuba?
By Sarah Dutton, Jennifer De Pinto, Anthony Salvanto and Fred Backus (CBS News, Dec 22, 2014)
The majority of Americans (54 percent) support reestablishing relations with Cuba, with Democrats overwhelmingly in support and Republicans divided. This support preceded Obama's surprise announcement in December that the US was normalizing relations with the island, as a New York Times poll in conducted in October 2014 found similar views.
Link to full text via CBS News
Poll: Public Backs Engagement with Cuba
By the Washington Post and ABC News (December 23, 2014)
This poll, conducted with a nationwide random sample of 1,000 adults, indicates that the large majority of Americans (64 percent) are in favor of reestablishing diplomatic relations with Cuba. Not only do 68 percent of participants support the end of trade embargo, but 74 percent are also in favor of lifting travel restrictions to Cuba. Detailed results can be viewed according to age, race, education, and party identification/ideology, among other categories.
Link to full text via Washington Post

Cuban American Flash Poll
By Bendixen and Amandi (El Nuevo Herald-The Miami Herald-Tampa Bay Times, December 18, 2014)
This presentation provides detailed results of a survey conducted among a nationwide random sample of 400 Cuban-Americans during December 17-18, 2014. The results indicate that, while –in general–respondents are closely divided about their position on "Obama's announcement to begin normalizing relations with Cuba," clear differences in levels of support emerge when the results are considered according to country of birth, age, and party identification, for example. The survey also asked participants to explain the reasons behind their support or opposition of the normalization of diplomatic relations.
CNN / ORC Poll 
(CNN, December 2014)
Based on the responses of 1,011 random participants surveyed after Obama announced changes US- Cuba policy, this poll indicates that 63 percent of Americans support the reestablishment of diplomatic relations with Cuba and more than a half want the embargo fully lifted. The document also includes the results of previous surveys showing the variation in support over time.
Open Letter to President Obama: Support Civil Society in Cuba
(SUPPORT CUBAN CIVIL SOCIETY, MAY 2014)
In this letter, an ideologically diverse group of former U.S. government officials from both Republican and Democratic administrations acknowledge the actions that President Obama has taken to support the Cuban people, while urgently requesting that he use his executive authority to further advance U.S. policy reforms in four specific areas: expanding and safeguarding travel to Cuba for all Americans; increasing support for Cuban civil society; prioritizing principled engagement in areas of mutual interest; and taking steps to assure financial institutions that they are authorized to process all financial transactions necessary and incident to all licensed activities.
Cuba Poll: How Cuban Americans in Miami View U.S. Policies toward Cuba
(The Cuba Institute at Florida International University, 2014)
The FIU Cuba poll, conducted every few years since 1991, is a standard reference on the public opinions and demographic profile of Cuban immigrants and their descendants in southern Florida. The 2014 poll in particular shows generational and ideological shifts among Cuban Americans who arrived before and after 1994, with younger generations more likely to favor the re-establishment of diplomatic relations with Cuba.
US-Cuba: A New Public Survey Supports Policy Change
by Peter Schechter and Jason Marczak (Atlantic Council, 2014)
According to this survey commissioned by the Atlantic Council's Adrienne Arsht Latin America Center, American political opinion has shifted to support a broad U.S. government opening to Cuba, including an end to the 54-year-old trade embargo and restrictions on travel by Americans to the island. The survey of more than 2,000 people nationwide – including extra sampling among Hispanics and in the politically critical state of Florida – found that 56 percent favor a more direct U.S. engagement with Cuba or even a normalization of relations with a nation that U.S. policy has treated as a pariah since the 1960s.
Link to the full report via the Atlantic Council

The Declining Symbolic Significance of the Embargo for South Florida's Cuban Americans
by Chris Girard, Guillermo Grenier, and Hugh Gladwin (MacMillan Publishers, 2010)
Abstract: The latest survey – in a series extending from 1991 to 2008 – shows for the first time that the US trade embargo no longer enjoys majority support among South Florida's Cuban Americans. This erosion of support may not be entirely a result of the failure of the embargo to accomplish its proclaimed goal. Nearly 50 years of economic sanctions against Cuba have not precipitated the Castro regime's compliance or collapse. Yet, majority support for the embargo was sustained across all Cuban American immigration cohorts and generations in a 2004 survey (N¼1807). Significantly, the same survey shows that specific components of a full embargo – banning or restricting food, medicine and travel – obtained no more than minority support in any cohort arriving after 1981. This apparent discrepancy suggests that the embargo – embedded in an ''exile ideology'' – had become a more palatable, overarching anti-Castro symbol than have specific anti-Castro sanctions. Logistic Regression results show that with respect to anti-Castro measures, sanctions incurring tangible costs generate the greatest disagreement among South Florida's Cuban Americans. Ultimately, in December 2008, even a largely symbolic expression of the exile ideology, Republican registration, was no longer embraced by a majority of Cuban Americans who had either recently immigrated or were born outside Cuba.
Link to article via Palgrave.com
Cuba Policy and U.S. Public Opinion
(World Public Opinion, April 2009)
This study indicates that a majority of surveyed Americans are in favor of taking a different approach to U.S.-Cuban relations. It includes further information about the political and demographic breakdown of varying attitudes regarding trade, travel, and diplomatic relations. In each scenario, a majority of respondents favored lessening restrictions.
National Survey of Cuban Americans
(Bendixen and Associates, April 2009)
Drawing on survey results from 400 Cuban-Americans around the country, this presentation includes respondents' support for U.S. policies toward Cuba, and details about Cuban American remittance behavior. Bendixen and Associates provide comparative results from previous decades, showing trends of increasing support for a more open relationship with the Island.
Most Americans Willing to Re-establish Ties with Cuba
(Angus-Reid Public Opinion, February 2002)
Based on the results from 1,008 random online survey participants, this poll indicates that almost two-thirds of Americans favor restoring relations with Cuba and lifting the U.S. travel ban. Additionally, about half of Americans agree on lifting the trade embargo.
FIU Cuba Poll
(Cuban Research Institute, Florida International University)
As the longest running research project tracking Cuban Americans in South Florida, this website houses yearly poll data starting in 1991 on Cuban-Americans' views of U.S. policy toward Cuba. It includes results from surveys by year, and allows for comparison based on age, policy question, and year of immigration.