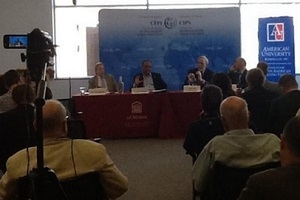 CLALS co-hosts a panel discussion on U.S.-Cuba bilateral relations at the University of Ottawa.
Cuba Initiative: 2014
As the Cuba Initiative closes its fourth year, we are grateful for continued support from the Christopher Reynolds Foundation, which has allowed us to break new ground in our new and ongoing initiatives.
During Fall 2014, CLALS has welcomed our first Cuban research fellow, Alejandro Perdomo, sponsored in collaboration with our colleagues at the Washington Office on Latin America (WOLA).  During his fellowship, Perdomo has received the full institutional sport of CLALS and been connected to diverse policymakers and activists across WOLA's practitioner networks. Perdomo has recently accepted invitations to deliver lectures in Champaign, Baltimore, Boston and Chicago about the challenges and opportunities of US-Cuba relations. He is also scheduled to be a guest speaker in a number of graduate-level classes at AU, with the goal of raising awareness of Cuban scholarship and culture.
In September 2014, CLALS Director Eric Hershberg, Prof. William LeoGrande, and Geoff Thale (a Senior Program Officer at Washington Office on Latin America) participated in a panel discussion with Canadian diplomats, scholars and practitioners at the University of Ottawa, concerning the much-debated participation of Cuba in the upcoming OAS Presidential Summit in Panama. The Ottawa event was co-sponsored by the Coordinadora Regional de Investigaciones Economicas y Sociales, the University of Ottawa, and the Latin American Study Group of the Canadian International Council.
With the goal of staying informed about and participating in current conversations about the opportunities and challenges facing women in Latin America, AU Law Prof. Brenda Smith and World Languages and Cultures Prof. Ana Serra attended the fifth annual "Conferencia Internacional Mujer, Género y Derecho" in Havana during June 2014.
Prof. Garrett Graddy drew on her multi-method research on agricultural relations (including interviews with Cuban experts in agricultural economics, history, cultural geography, sociology, and policy) to present at the Dimensions of Political Ecology conference in March 2014 and to organize a panel entitled "Geographies of/from Cuba: Navigating Change & Resilience" at the American Association of Geographers conference later that spring. Graddy's research explores how agricultural cooperatives have evolved since the onset of the "special period" and how small farmers have adapted and survived in the face of changing environmental, political, social, and economic conditions.
Prof. Sonya Grier has continued a very productive collaboration with Profs. Luis Alberto Barreiro and Ileana Díaz from the University of Havana, with whom she analyzed the use of social marketing to influence important health behaviors in Cuba's population. The team's methodology included a thorough review of program materials, as well as meetings with key staff from important national centers (e.g. National Center for STI HIV-AIDS, National Center for Sexual Education; CENESEX), academic researchers (e.g. National School for Public Health), and media professionals. This past June, Grier presented the team's findings at the American Marketing Association's 2014 Marketing and Public Policy conference in Boston.
In Feb. 2014, Prof. Graddy hosted Laneydi Martinez of Havana's Centro de Estudios Hemisféricos y sobre Estados Unidos, who lectured at AU on Cuba's role in regional economic integration policies.
Cuba Initiative: 2013
Profs. William LeoGrande, Phillip Brenner, and Eric Hershberg presented at the Dec. 2013 conference "XII Taller, Cuba en la política exterior de los Estados Unidos de América: Proyecciones, tendencias y perspectivas de las relaciones Cuba-Estados Unidos en los temas de seguridad y del mayor interés mutuo," hosted by Soraya Castro of the Centro de Investigaciones de Política Internacional (CIPI) in Havana.
To raise awareness of Latin American transgendered persons, CLALS organized a round-table discussion in October 2013 with the distinguished Cuban historian, Julio González Pagés. This visit by the author of Por andar vestida de hombre allowed speakers and a highly engaged audience to consider the changing significance and status of gender in contemporary Cuba and Latin America.
In mid-June 2013, Prof. Sonya Grier traveled to Havana to deliver a series of presentations at a workshop convened by the National School of Public Health, which has expressed interest in working with her to develop agendas for long-term collaborative research assessing the use of social marketing around health-related issues in Cuba.
To improve the health outcomes and increase consciousness of the LGBTI community, Prof. Macarena Saez and several colleagues, including Prof. Brenda Smith and University of Trinidad and Tobago Prof. Rishi Prem Anand Dass, participated in a June 2013 conference on LGBTI and Human Rights in the Caribbean. Saez moderated a panel discussion on gender, sexuality and violence.
Cuba Initiative: 2012
The Christopher Reynolds Foundation renewed their financial support of the CLALS Cuba Initiative. During 2012, the initiative continued to draw on unique areas of faculty expertise at American University and relationships that have been developed with Cuban researchers and institutions. Thus far four main projects have been supported: 
In January, eight AU faculty traveled to Cuba where they participated in the 6th Taller Academico Cuba-Estados Unidos (TACE), an ongoing project which examines possibilities of reducing tension and building confidence between the U.S. and Cuba. This four-year project concluded in 2013 and has resulted in a series of recommendations that are available here in English and Spanish.
AU Business School Professor Sonya Grier traveled to Havana in May 2012 for exploratory discussions regarding opportunities for developing social marketing initiatives around health promotion objectives. Follow-up discussions were held in January 2013 with a wide range of scholars and practitioners from the University of Havana and beyond. The research conducted will result in an article co-authored by contacts made in Cuba and ongoing cooperation with local organizations on the implementation of social marketing initiatives.
Professor Macarena Sáez of AU's Washington College of Law was accompanied by colleagues from AU and several other law schools in a series of meetings on topics related to gender and sexuality in the law. A conference held at the University of Havana Law School, co-sponsored by CENESEX and the ALAS Network was the highlight of the visit, which it is hoped will result in continuing exchanges among specialists from AU and the University of Habana. The program is available here.
In collaboration with the AU School of Communications and AU Abroad, 14 Cubans, under the tutelage of AU Professor Bill Gentile, took part in a training program on "backpack journalism" in Havana. Two of the aspiring Cuban filmmakers who participated in the course visited AU and surrounding universities in September 2012, where they screened their documentary, Solar del 11, and met with film students from several U.S. campuses. For more information about their trip and to view their documentary, please click here. For more information about the class, please visit the class blog.
Three American University professors traveled to Cuba to meet with leading researchers and policy makers and take part in a December 17-18 conference, "Proyecciones, tendencias y perspectivas de las relaciones Cuba - Estados Unidos en el mandato presidencial 2013-2017." Philip Brenner, William LeoGrande and Fulton Armstrong presented papers on prospects for U.S.-Cuban relations and interviewed an array of stakeholders regarding Cuba's processes of economic reform. Professor LeoGrande's paper, "Fresh Start for a Stale Policy: Can Obama Break the Stalemate in U.S.-Cuban relations?" is available here. Fulton Armstrong presented "Factors determining the options and political space the Obama/Romney Administration will have regarding bilateral relations with Cuba; the interplay among those factors; and how the Cuban Government might influence the outcome: The drivers of policy," which was co-authored by Julia Sweig of the Council on Foreign Relations.
Cuba Initiative: 2011
Significant, and perhaps dramatic, changes are underway in the organization of Cuba's economy and the configuration of state-society relations in that undeniably unique Latin American country. To assess both the current situation and prospects for the coming years, CLALS commissioned studies on basic needs provision from three of Cuba's leading social scientists: Omar Everleny Pérez, Universidad de la Habana; Luisa Iñiguez, Universidad de la Habana; and Mayra Espina, Centro de Investigaciones Psicológicas y Sociológicas. Addressing housing, health and poverty alleviation, this research was presented at a workshop at AU on February 21.
Contributions from Cuban intellectuals were highlighted in a forum devoted to treatments of housing, gender, youth, immigration, the arts, and the state of the Revolution in contemporary Cuba with documentary filmmakers Alina Rodríguez and Aram Vidal. Film critic Caridad Cumaná (Fundación del Nuevo Cine Latinoamericano) opened the talk, examining the historical role of documentary filmmaking within Cuba.
In collaboration with the Washington College of Law and the Network of Latin American Scholars on Gender, Sexuality and Legal Education (ALAS), CLALS has supported dialogue between law school faculty in Cuba and their AU counterparts. WCL Professor Brenda Smith attended the VI Conferencia Internacional de Derecho de Familia and has been invited to participate as a speaker in the IV Conferencia Internacional "Mujer, Género y Derecho" in 2012.