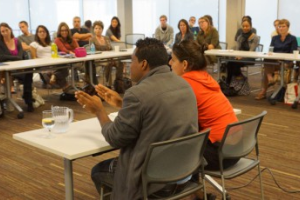 Duniesky Cantón Fernandez (left) and María Elisa Pérez Leal (right) answering questions about Solar del 11 at AU
Cuba Initiative: 2013-2014
The Cuba Initiative is entering its third year, with renewed support from the Christopher Reynolds Foundation. We will continue to collaborate with Professors Sonya Grier and Macarena Saez on the projects that were established in 2012 (described below), and embark on the following new initiatives:  
Fund a Cuban Research and Policy Fellow for three months in the U.S. who specializes in labor and the economy.
Commission a series of white papers on labor and the Cuban economy.
Research how agricultural cooperatives have evolved since the onset of the "special period" and explain how small farmers adapt and survive in the face of changing environmental, political, social, and economic conditions. This project will be headed by Professors Garrett Graddy and Larry Engel.

Cuba Initiative: 2012

The Christopher Reynolds Foundation renewed their financial support of the CLALS Cuba Initiative. During 2012, the initiative continued to draw on unique areas of faculty expertise at American University and relationships that have been developed with Cuban researchers and institutions. Thus far four main projects have been supported: 
In January, eight AU faculty traveled to Cuba where they participated in the 6th Taller Academico Cuba-Estados Unidos (TACE), an ongoing project which examines possibilities of reducing tension and building confidence between the U.S. and Cuba. This four-year project concluded in 2013 and has resulted in a series of recommendations that are available here in English and Spanish.

AU Business School Professor Sonya Grier traveled to Havana in May 2012 for exploratory discussions regarding opportunities for developing social marketing initiatives around health promotion objectives. Follow-up discussions were held in January 2013 with a wide range of scholars and practitioners from the University of Havana and beyond. The research conducted will result in an article co-authored by contacts made in Cuba and ongoing cooperation with local organizations on the implementation of social marketing initiatives.

Professor Macarena Sáez of AU's Washington College of Law was accompanied by colleagues from AU and several other law schools in a series of meetings on topics related to gender and sexuality in the law. A conference held at the University of Havana Law School, co-sponsored by CENESEX and the ALAS Network was the highlight of the visit, which it is hoped will result in continuing exchanges among specialists from AU and the University of Habana. The program is available here.
In collaboration with the AU School of Communications and AU Abroad, 14 Cubans, under the tutelage of AU Professor Bill Gentile, took part in a training program on "backpack journalism" in Havana. Two of the aspiring Cuban filmmakers who participated in the course visited AU and surrounding universities in September 2012, where they screened their documentary, Solar del 11, and met with film students from several U.S. campuses. For more information about their trip and to view their documentary, please click here. For more information about the class, please visit the class blog.
Three American University professors traveled to Cuba to meet with leading researchers and policy makers and take part in a December 17-18 conference, "Proyecciones, tendencias y perspectivas de las relaciones Cuba - Estados Unidos en el mandato presidencial 2013-2017." Philip Brenner, William LeoGrande and Fulton Armstrong presented papers on prospects for U.S.-Cuban relations and interviewed an array of stakeholders regarding Cuba's processes of economic reform. Professor LeoGrande's paper, "Fresh Start for a Stale Policy: Can Obama Break the Stalemate in U.S.-Cuban relations?" is available here. Fulton Armstrong presented "Factors determining the options and political space the Obama/Romney Administration will have regarding bilateral relations with Cuba; the interplay among those factors; and how the Cuban Government might influence the outcome: The drivers of policy," which was co-authored by Julia Sweig of the Council on Foreign Relations.

Cuba Initiative: 2011

Significant, and perhaps dramatic, changes are underway in the organization of Cuba's economy and the configuration of state-society relations in that undeniably unique Latin American country. To assess both the current situation and prospects for the coming years, CLALS commissioned studies on basic needs provision from three of Cuba's leading social scientists: Omar Everleny Pérez, Universidad de la Habana; Luisa Iñiguez, Universidad de la Habana; and Mayra Espina, Centro de Investigaciones Psicológicas y Sociológicas. Addressing housing, health and poverty alleviation, this research was presented at a workshop at AU on February 21.
Contributions from Cuban intellectuals were highlighted in a forum devoted to treatments of housing, gender, youth, immigration, the arts, and the state of the Revolution in contemporary Cuba with documentary filmmakers Alina Rodríguez and Aram Vidal. Film critic Caridad Cumaná (Fundación del Nuevo Cine Latinoamericano) opened the talk, examining the historical role of documentary filmmaking within Cuba.
In collaboration with the Washington College of Law and the Network of Latin American Scholars on Gender, Sexuality and Legal Education (ALAS), CLALS has supported dialogue between law school faculty in Cuba and their AU counterparts. WCL Professor Brenda Smith attended the VI Conferencia Internacional de Derecho de Familia and has been invited to participate as a speaker in the IV Conferencia Internacional "Mujer, Género y Derecho" in 2012.