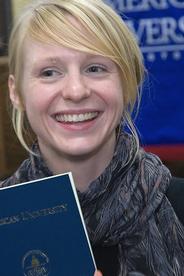 Graduate at the President's Reception for August and December Graduates, held in December each year.
AU's commencement ceremonies on Saturday, May 11, 2013, and Sunday, May 12, 2013, will celebrate the accomplishments of our students who graduated in August and December 2012 and those who are expected to graduate in May 2013.
President's Receptions
On Friday, December 7, 2012, President Kerwin will host two receptions for August and December 2012 graduates. The reception for August and December bachelor's degree recipients is from 5:00 to 7:00 pm in the University Club, Mary Graydon Center, and the reception for August and December master's and doctoral degree recipients is from 6:00 to 8:00 pm in the Katzen Arts Center.

Each August or December graduate may bring up to four guests. Invitations are mailed in late October to December graduates' local addresses and August graduates' permanent addresses. Responses are due December 3, 2012. Call 202-885-2430 or email specialevents@american.edu for more information.
Students must submit an Application to Graduate for August or December 2012 on the myAU.american.edu portal. Late submission of the application will affect inclusion of your name in the printed reception program.
Please note that this is a reception, not a seated dinner, and students are not in regalia and do not march across the stage (as they do at the May commencement ceremonies).

View photos from the receptions: Bachelor's recipients, Master's/Ph.D. recipients.

Diplomas
Once grades have been recorded and a student's record checked to ensure that all university and degree requirements have been met, diplomas will be printed. 
August 2012 graduates receive diplomas throughout fall semester. The date appearing on August diplomas is August 16, 2012.

December 2012 graduates receive diplomas during the spring, with most diplomas mailed by early March. The date on December diplomas is December 20, 2012.

Please contact the Records Services staff in the Registrar's Office (202-885-2236) if you have questions. Diplomas will be mailed to the address provided by the graduate on the Application to Graduate form.
Ordering Caps & Gowns
August and December graduates will receive a postcard in mid-March with instructions for ordering regalia. Orders should be placed via the myAU.american.edu portal prior to the April 8 deadline. Persons who rent regalia will receive additional information about line-up and assembly locations and times. This information is emailed to your AU email account in late April.
Doctoral degree recipients who intend to purchase regalia should contact the Registrar's Office before March 11 to complete the ordering process.