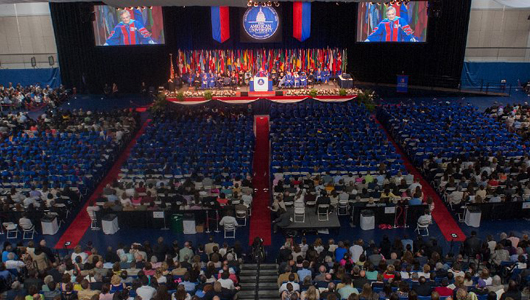 Ceremony Logistics

The doors to Bender Arena will open 45 minutes before each ceremony. No one will be permitted inside prior to that time.

Only graduating students are permitted in the line-up assembly areas in Bender Arena.

Guests should arrive in time to park and be seated in the arena no later than ten minutes before the start of each ceremony. No one will be admitted during the processional.

The student processional will begin approximately five minutes prior to the start of the ceremony. Entry to the Arena will not be permitted during the processional.

To ensure the comfort of our guests and in accordance with local fire safety laws, aisles must be kept clear at all times. Guests are asked to cooperate with ushers and public safety officers and to keep designated areas clear. All bags are subject to search, and large signs, banners, and other objects that impede visibility are not permitted.

A commercial photographer from GradImages will photograph each student approaching the stage and shaking hands with President Neil Kerwin. Following commencement, GradImages will send proofs and ordering information to students. Please note that parents and guests will not be permitted on or near the stage to take photographs during the ceremony.

Each graduate's name will be announced during the ceremony. The university requests that guests respectfully honor this momentous occasion in a way that enables family and friends to hear each graduate's name as it is announced. Please refrain from the use of air horns or any other type of noisemaker during the ceremony.

Each ceremony will be approximately two hours in duration.

Click on the links below for school-specific Bender Arena floor plans:
After the ceremony:
To prevent confusion, please determine in advance where you will meet your party immediately following the ceremony.
After the ceremony, each school will host a reception for their graduates and guests. Locations for receptions can be found under the "School Specific Information" tab on the left-hand side of this page.

If you are going to a restaurant after commencement, we recommend making reservations for approximately four hours after your ceremony's start. This will allow you time to attend your school's reception and return your rental regalia to the Campus Store.
Webcast

All AU commencement ceremonies will be broadcast live on american.edu/commencement.