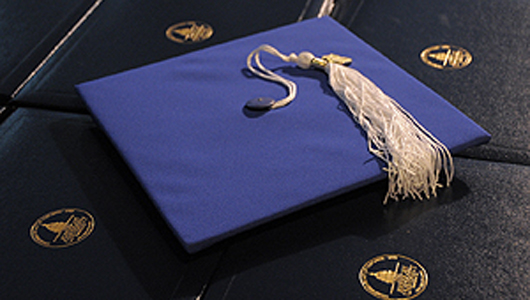 Cap and Gown Rental

Cap and gown rental orders will be accepted on the myAU.american.edu portal from approximately March 22 through April 7. Exact fit cannot be guaranteed for late orders.
All students participating in commencement must rent or purchase academic regalia in the university's distinctive red, white, and blue colors. This regalia includes a cap and gown, and a hood for masters' and doctoral degree recipients, as determined by the graduate's area of specialty. Rental regalia is owned by Herff Jones and was designed specifically for AU. Rental or purchase of regalia serves as a student's registration to participate in commencement.
Becoming Eligible to Participate in Commencement

Students must complete the Application to Graduate form on the myAU.american.edu portal. The application triggers a review of a student's record in order to determine if all degree requirements will be completed at the end of the term. Students on track to graduate are deemed eligible to participate in commencement and will be mailed the Regalia Postcard in late March with instructions for renting regalia.
Students who cannot complete degree requirements during spring semester are eligible to participate in a later ceremony and must reapply for graduation at the appropriate time. Late applications may result in the student's name being omitted from the commencement program and other materials and will delay the student's ability to rent regalia.

The university strictly enforces the policy for participation in commencement. Students are responsible for maintaining an appropriate course load and completing degree requirements in time to be eligible for their targeted graduation. Only those students whose academic records indicate that they can satisfy degree requirements by the end of the term for which they have filed an application to graduate will be permitted to participate in the May commencement.
Latin Honors or University Honors
Undergraduate students who are projected to graduate with Latin Honors or University Honors, as of the end of fall semester 2013, will receive a gold cord (with their rental regalia) signifying academic achievement to wear during the commencement ceremony. Master's and doctoral degree recipients are not eligible to receive Latin Honors.

The notation of Latin Honors and University Honors in the commencement program and the determination to distribute gold cords for use during the ceremony is based on fall semester grades, since commencement occurs before spring semester grades have been recorded. The diploma and transcript are the only official means of certification and reflect all course work counted toward the degree. If a student is found to have met the requirements for Latin Honors or University Honors after spring semester grades are applied, it will be noted on the diploma and transcript.
For additional information about Academic Honors, see the Undergraduate Academic Rules and Regulations (section 5.6, Latin Honors).
Placing Your Regalia Rental Order
Students who have been declared eligible to graduate will be mailed a postcard in late March with instructions on renting regalia. In order to ensure availability, orders must be placed via the myAU.american.edu portal by April 7 and will require a credit card. Your order must include your height and approximate weight to ensure proper fit. Orders with missing information will not be completed.
Orders received after April 7 are subject to availability and will be accepted via the myAU.american.edu portal until 5:00 pm on April 30.To place an order after April 30, students should fill out a paper form in AU Central, then complete payment in the Campus Store.
The rental fee for regalia, including taxes, is approximately $42 for bachelor's, $85 for master's, and $114 for doctoral.
Picking Up and Returning Regalia
Caps and gowns must be picked up in the Campus Store on the third floor of Butler Pavilion during regular business hours from May 7 through May 10 and during the commencement ceremonies on May 10 and May 11. All regalia, except the tassel, must be returned to the Campus Store by 6:00 pm on May 11. Graduates who do not return regalia will be charged the full purchase price (approximately $400 for bachelor's regalia).
Purchasing vs. Renting Regalia
Some graduates, typically doctoral degree recipients going into university teaching positions and those who might need regalia for ceremonial occasions, opt to purchase regalia, which ranges from $400 to $775. The price depends upon the type of fabric and trim chosen. It takes up to eight weeks to process an order. Orders to purchase regalia are due March 10. Graduates whose orders are not completed before the May 10 and 11 ceremonies will need to rent regalia.