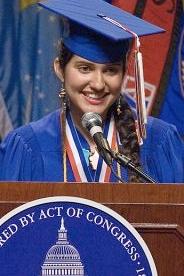 > Student Speakers
Each school or college ceremony includes an address by a graduating student. The selection of the student speaker is coordinated within each school's dean's office. The process begins in early February. Speakers are announced by the dean's office in late March or early April.

If you would like to be considered as a student speaker, please contact your dean's office.
> Honorary Degree Recipients and Commencement Speakers
The 2013 commencement speakers will be:
Lisa P. Jackson (SPA)
Darryl Frank (SOC)
Paul Farmer (CAS)
Gary Veloric (Kogod)
Moisés Naím (SIS)
Harold Hongju Koh (WCL)
Commencement speakers must be approved by the school or college's dean, the president, and the Board of Trustees and are selected based on meritorious contributions to society or to American University in fields related to the school or college. The process typically begins one year in advance. All commencement speakers are announced at the same time in late March or early April. The announcement appears on the AU home page, president's website, Today@AU, and the Eagle.

Read more about the 2013 commencement speakers.

Additional information about past honorary degree recipients and commencement speakers is available on the Commencement History and Traditions page.