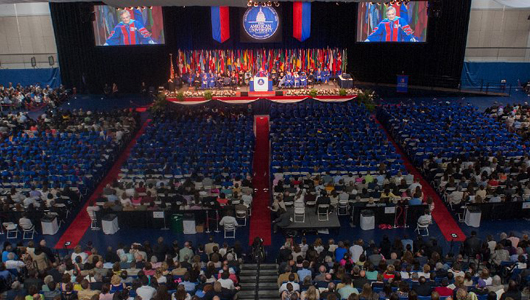 Here are some answers to typical questions that visitors or graduates may have about Commencement. If you do not find the answer you are looking for, please email us.
Can I sit with my friends at graduation?

Generally, yes. Graduates do not sit or walk in alphabetical order during Commencement, but your friends must be in the same school or college as you and in the same degree candidacy (ie: undergrads must sit with undergrads).

Do my guests need tickets to attend the ceremony?

No, AU ceremonies are not ticketed. 
How many guests can I bring?
In order to avoid overcrowding and comply with DC Fire Codes, please do not bring more than seven guests to the ceremony.

What time should graduates arrive to line up before the ceremony?

Please arrive 45 minutes prior to the start of your ceremony in order to receive your name card, line up, and process into the arena.

What should I wear?

In order to walk in a commencement ceremony you must wear a cap and gown designed especially for American University by Herff Jones. Students not wearing the proper regalia will not be permitted to walk in the ceremony. Please click here for cap and gown ordering instructions.

Where should my guests park for the Commencement ceremony?
Guests should park their vehicles in the Nebraska Parking Lot, the School of International Service garage, or the Katzen Arts Center garage. Please see this map for details. Parking on Commencement days will be free for those attending a ceremony. If you have a VIP parking pass or have a guest with special needs, please park in the Bender Arena lot. Parking is limited and available on a first-come first-served basis.

What do I do with my purse during the ceremony?
Please leave all personal belongings with your guests or in your vehicle during the ceremony.

How do I order graduation announcements?
You may purchase or order generic graduation announcements from the Campus Store. Herff Jones has created school-specific personalized announcements for American University and you may order them through their website. Remember it takes several weeks for personalized printing, so order them well in advance.

What is the senior class gift and how can I donate?
The 2014 senior class gift has not yet been announced.

I would like to speak at graduation. How do I apply?

Individual schools and colleges handle the selection process for student speakers, and each one is a little different. Please contact your dean's office for more details.

I believe I am qualified to win a University Award. How do I get nominated?
See the University Awards website for additional information about the awards and criteria.You may nominate yourself once the nomination process begins in late January. Professors and advisers may also nominate students.