2014 Commencement Speaker
TH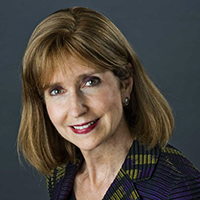 E HONORABLE PAULA J. DOBRIANSKY

Ambassador Paula J. Dobriansky, a seasoned American diplomat and foreign policy expert who has served under five U.S. presidents, is a senior fellow at Harvard University's JFK Belfer Center for Science and International Affairs, adjunct professor at Georgetown University's School of Foreign Service, and chair of the National Board of Directors of the World Affairs Councils of America.
She will be the commencement speaker for American University's School of International Service at 4:30 p.m. on Saturday, May 10 in Bender Arena and will receive an honorary Doctor of International Affairs degree.
Dobriansky, a specialist in Eastern Europe and the former Soviet Union, is the longest-tenured under secretary of state in history, serving from 2001 to 2009. As under secretary for democracy and global affairs, she established and led the U.S.-India, U.S.-China, and U.S.-Brazil Global Issues Fora—which advanced crucial international cooperation on environment, health, development and humanitarian issues. Additionally, she was head of delegation and lead negotiator on U.S. climate change policy.
In February 2007, as the president's special envoy to Northern Ireland, Dobriansky received the secretary of state's highest honor, the Distinguished Service Medal, for her significant contributions to the historic devolution of power in Belfast.
During her more than 25 years in national security affairs, Dobriansky has held many Senate-confirmed and senior level positions in the U.S. Government including deputy assistant secretary of state for human rights and humanitarian affairs and director of European and Soviet affairs at the National Security Council at the White House.
From 1997–2001, Dobriansky served as senior vice president and director of the Washington Office of the Council on Foreign Relations, where she was the council's first George F. Kennan senior fellow for Russian and Eurasian studies.
She has lectured and published widely on foreign affairs topics and has been interviewed by numerous news media outlets. A member of Phi Beta Kappa, she received a B.S.F.S. summa cum laude in International Politics from the Georgetown University School of Foreign Service and a M.A. and Ph.D. in Soviet political/military affairs from Harvard University.