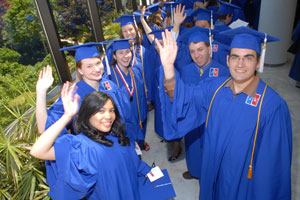 Senior Week events will be organized by the Class of 2013 Council. For more information, email the Class of 2013 Council at 2013@ausg.org. Be sure to follow the Class of 2013 on Facebook for all the latest news and updates.
2013 Senior Week Schedule
Tuesday, May 7, 7:00 pm
End your finals with Maggiano's
MGC 200

Join us for some light appetizers from Maggiano's to celebrate the end of finals!

Wednesday, May 8 (All Day)
Twitter photo contest

Head out for the night and try to get the best photo to symbolize your experience at AU and in DC. Tweet your photo to AU Class of 2013. The winners will receive gift cards!

Thursday, May 9, 8:00 pm
Wall-E in the Amphitheater

Join us for a night of popcorn and snow cones. Families are welcome.


Commencement 2013 Activities
Thursday, May 9:
Senior Class final event; schedule and location TBA

Friday, May 10

Toast to Graduates, a reception for graduates and their guests, including an appetizer and dessert buffet, coffee, a champagne toast, and cash bar, Katzen Arts Center, 8:00 pm