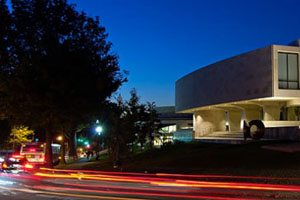 Traffic generated by American University around the campus declined 25 percent during peak rush hours between 2000 and 2008, according to a new study.

These results are drawn from a transportation study conducted for the university by transportation/traffic consultants Gorove/Slade Associates, Inc. A study of vehicular and pedestrian traffic is one key element incorporated into the university's planning for a new Campus Plan that is being developed. The study compared traffic in 2000 with data collected in October and November of 2008, and also looked at projected traffic conditions in 2020 if all proposals in the Campus Plan were in effect.

In addition to the decline in AU-generated traffic in morning and evening rush hours, the study found that:

There were 21 percent fewer cars on campus on a typical weekday.
Annual ridership of the AU Shuttle is 1.8 million, double what it was 10 years ago.
AU's population is walking and bicycling more.
The study also noted that while AU-generated traffic is trending down, commuter traffic appears to be increasing in percentage over locally-generated traffic.

The Gorove/Slade study concluded that this trend for AU is likely to continue with the proposed 2011 Campus Plan, as the university encourages less dependence on automobile use, fosters greater use of the AU shuttle, and makes it easier to walk and bike to campus.

To project traffic in 2020, the study examined two scenarios – one with the Campus Plan current proposals in effect, and one without it. Even with the Campus Plan proposals fully developed, the study concluded that the changes in vehicular traffic generated by AU would be slight. Moreover, if current trends in the university's transportation and commuting habits continue during future morning and evening peak hours, AU-generated vehicular traffic actually is projected to be lower in 2020 than it was in 2000.

If the Campus Plan proposals are developed fully on the current Nebraska parking lot, there may be a projected increase in pedestrian traffic concentrated at several crosswalks. To address this possibility, measures have already been incorporated into the Campus Plan's proposals to find both short-term and long-term solutions. Short-term proposals focus on reducing foreseeable conflicts between pedestrians and vehicles by taking such measures as altering signal timings at crosswalks; channeling pedestrians to crosswalks; increasing compliance with "Walk" and "Don't Walk" signals; eliminating the driveway to the parking lot on Nebraska Avenue; and working with DC Department Of Transportation (DDOT) to add more options for pedestrians to cross Massachusetts Avenue.

In response to discussions about overall traffic in the area, AU has offered to facilitate a discussion on "big ideas" for the future of Ward Circle with our neighbors, the DDOT, the Department of Homeland Security, and the National Park Service.

The AU Campus Plan continues to evolve, and we welcome ideas that benefit both campus and community. We will keep you posted as the plans take shape.

Deliberations regarding the elements of the plan, including traffic, will continue, both within the university as well as in consultation with our neighbors. Elements of the plan also may be adjusted until we draft the final plan for submission to the DC Zoning Commission later this year. Following a thorough review and hearings by the Zoning Commission, the newly approved Campus Plan would go into effect next year. The current Campus Plan expires in August 2011.

All materials regarding the development of the 2011 Campus Plan and from the task force meetings are available on the Campus Plan Web site. You can also contact Penny Pagano, Director, Community and Local Government Relations, at (202) 885-2167.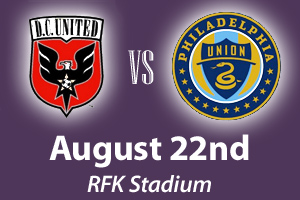 Enjoy Major League Soccer and join AU alums, family, and friends to cheer on the DC United soccer team as they take on the Philadelphia Union for the first time at RFK Stadium on Sunday, August 22. Game time is 2 p.m. Cost: $20 per person. Sign up online through the alumni website. For more information, call Heather Buckner at (202) 885-5902.  Pick up tickets on game day (along with vouchers for complimentary food and beverages during the game) from 12:30 p.m. to 1:45 p.m. at the Tailgate Village of Parking Lot 8, and enjoy the free live concert before the kick-off.
Have a fun time at Six Flags America in Bowie, MD, on Saturday, August 28 (10:30 a.m. to 10 p.m.), sponsored by the AU Alumni Association and the AU Student Activities Office. Alumni, students, faculty, staff, and friends can enjoy more than 100 rides, slides, shows, and even an AU-specific scavenger hunt amid AU banners and decorations throughout the park. Tickets: $20 for alumni, faculty, staff, and guests.  Student tickets are $15.  Tickets can be purchased at the Student Activities Office in Mary Graydon Center, Room 271.  Discounted parking passes and food vouchers also are available for pickup in Student Activities. Tickets also can be purchased through the Six Flags America Web site for $25.50, including tax and processing fees. Enter "aucommunity" in the promo code box on the top right corner of the homepage for the AU discount. At the park gate on the date of the event, be sure to give the ticket agent the promotional code: AMERICAN.  For more information, call the AU Student Activities office at 202-885-3390.

A complete listing of upcoming Alumni activities is available through the Alumni events calendar.
Past issues of the AU yearbook, including this edition from 1926-1927, are now viewable online.
Can't find your AU Yearbook? No problem – now you can read it online. The AU Library has digitized issues of the AUCOLA and The Talon from 1927 through 1998 – with the rest to come soon. View the yearbook online by clicking on "T" for Talon in "Browse by title." Enter the year you want, and read the yearbook online page by page or download it in its entirety as a PDF. Issues of the AU newspaper The Eagle from 1924 through 2004 are also online.
Exhibits include invented "portraits" of mythical empresses by BG Muhn.
The new fall exhibits at the AU Museum open August 31 where there's lots to see, including a stunning series of invented "portraits" of mythical Chinese empresses by BG Muhn; large-scale collages by Luciano Penay, Professor Emeritus, who taught several generations of art students at AU; monumental forms incorporating glass and steel by Washington sculptor Alan Binstock; and the second "Alumni Show" featuring works by AU alumni selected by AU Art Department faculty and Museum Director and Curator Jack Rasmussen.
The full schedule of future exhibits is here.