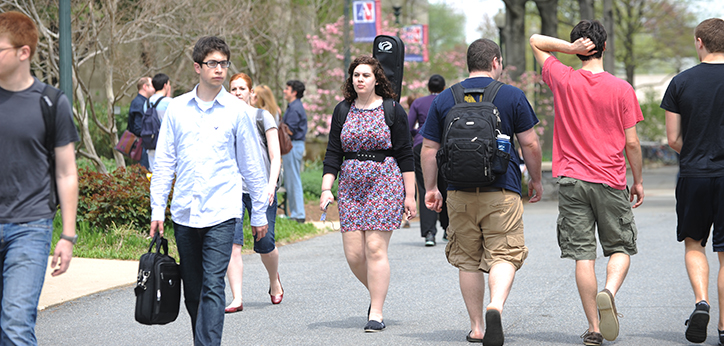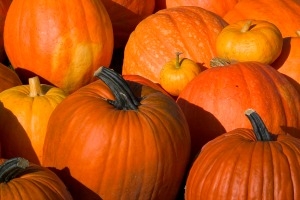 Mark your calendars now and plan to bring the whole family to campus for AU's Neighborhood Fall Festival. The event will take place from 12 p.m. - 4 p.m. on the main quad and will feature music, food, games, moonbounce, petting zoo and pony rides, arboretum tours, and fun for the whole family.
For additional information, contact Andrew Huff, Director of Community Relations at 885-2167 or ahuff@american.edu.
Fostering positive relations with our neighbors is a priority for American University and we welcome the opportunity to be a valuable and valued community partner.
We invite our neighbors to attend lectures on campus, enjoy musical performances and openings at the Katzen Arts Center, show their support as Friends of the Library, take advantage of special rates at the university fitness center and pool, and make use of campus amenities such as our bookstore, retail food outlets, and ATMs.
Now we offer you the chance to sit side by side with our students and alumni as a part of the new Community Audit Program. Modeled after the Alumni Audit Program, AU's Community Audit Program is coordinated by the Office of Alumni Relations in conjunction with the Office of Community Relations. The new program offers adults ages 60 and older, who live in the 20016 zip code, the opportunity to attend university courses on a noncredit basis for a modest charge. Auditors may listen to the same lectures and work from the same texts as enrolled students. Many of our neighbors consider the program a highly valued community service since it offers people the chance to be part of the university environment through its extensive list of courses, that is sure to suit a range of interests and schedules.
For just $100, $75 of which serves as a donation to the Alumni Association Scholarship Fund, our neighbors are offered a rewarding way to enhance their professional skills, take classes with popular professors, or delve into a new hobby and pursue a commitment to lifelong learning. The Office of Alumni Relations has streamlined the registration process for auditing courses to improve the user experience for alumni and, with the help of the Office of Community Relations, has forged a new relationship to assist our neighbors.
The idea for a community audit program originated with a suggestion from one of our neighbors at an annual Community Town Hall meeting with President Kerwin. For more information about the Alumni Association Scholarship, please contact Tara Lang at 202-885-5921. To learn more about the Community Audit Program, please contact Kristena Wright at 202-885-5962.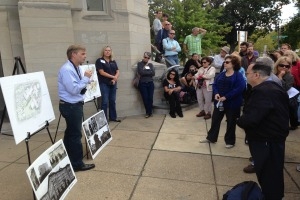 AU recently participated in a walking tour of the Tenleytown commercial district hosted by Ward 3 Vision and the Coalition for Smarter Growth. Neighbors and smart growth advocates spent time at the Tenley campus, the future home of the Washington College of Law (WCL).
They learned about the history of the site, as well as development plans for the WCL, which has been under construction for the past several months.
Before American University acquired what became the Tenley campus in 1986, Capital Hall was part of the Immaculata campus, home to the Sisters of Providence of St. Mary of the Woods. In 1904, the Sisters, with the support of Cardinal Gibbons and St. Ann's pastor, Father Mallon, purchased the property on which they built Immaculata Seminary. Immaculata was to be a select school for both boarders and day students. In addition to the wide range of academic subjects, students benefited from the cultural opportunities in the nation's capital, as well as from the extensive grounds available for games.
By the mid 1980s, the members of the Sisters of Providence declined in number, and those who remained were advanced in years, one of the reasons that led the Sisters to close the school.
When completed in 2015, the Tenley Campus will be a vibrant legal center where WCL's world-class faculty, inspired students, dedicated alumni, and others come together to champion the issues of the day. WCL also will be among the most technically advanced law schools in the country and the only one with a courthouse.
The light-filled and LEED-certified facility, measuring approximately 312,000 square feet, will include flexible teaching spaces, expanded clinic space, teaching courtrooms, and multiple indoor and outdoor student study and meeting spaces throughout the campus. The enhanced Pence Law Library will feature an Alumni Center that will provide the more than 18,000 alumni with research and business resources when they visit. The Tenley Campus also is located one block from the Metro, giving the legal community, business leaders, government officials, and alumni better access to the law school while providing students with a direct line to the heart of Washington, D.C.
Additional information on the new Washington College of Law, as well as construction updates and a live webcam, can be found here.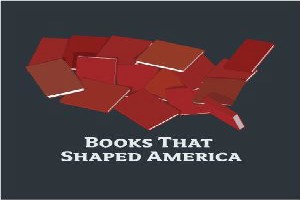 The School of Professional and Extended Studies (SPExS) and the university library are pleased to announce the continuation of Books that Shaped America, a special discussion series for the community and American University students, faculty, and staff. The series features selections from the Books That Shaped America list compiled by the Library of Congress. Informal discussions about the influence of these books on the nation's extraordinary literary heritage are led by AU faculty and staff members.
Upcoming events include discussions of The Legend of Sleepy Hollow by Washington Irving, led by Washington College of Law professor Lewis Grossman on October 15 at 7:30 p.m., and Fahrenheit 451 by Ray Bradbury, led by University Librarian Nancy Davenport on November 19 at 7:30 p.m.
These events and free and light refreshments will be served. Attendees are not required to have read the books in advance.
For additional information on the Books That Shaped America series or the October events, please visit www.american.edu/spexs/btsa or call 202-885-3847.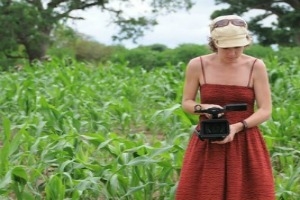 American University's Center for Environmental Filmmaking, in partnership with Filmmakers for Conservation, are pleased to announce the 9th Annual Fall 2013 Film Series. The series was created and is hosted by Distinguished Film Producer in Residence at AU's School of Communication, Chris Palmer.
Screenings will take place in the Wechsler Theater, on the 3rd floor of the Mary Graydon Center, and are free and open to the public.
Natural History Extreme Makeover with Animal Planet
Tuesday, October 8 (7 p.m.)
Producer Krishna San Nicolas at Animal Planet will speak about what she does to tailor European natural history/blue chip programs for the American audience, specifically Animal Planet's viewers. She will demonstrate her work with "before" and "after" clips.
Classroom in the Wild: Film Screening Followed by Q&A
Tuesday, October 29 (7 p.m.)
Hear first hand about the extraordinary experiences of Classroom in the Wild in the Chesapeake Bay. This past March, students spent a week at the Chincoteague National Wildlife Refuge to produce original short films about the many ecological issues facing the refuge and nearby town. In a presentation of photos, videos, and student accounts, you will learn more about this unique course, as well as future opportunities to practice environmental filmmaking in Classroom in the Wild during the 2014 spring break.
Crowdfunding Success: Finding Your Voice, Embracing Your Niche, and Loving Your Audience
Tuesday, November 5 (7 p.m.)
In this talk, crowdfunding consultant and independent filmmaker, Kiley Kraskouskas will discuss why crowdfunding continues to thrive and how you can leverage the platform for your next project. Using examples from real campaigns, Kiley will discuss the importance of knowing yourself and your audience when building your campaign. In addition, Emmy-award winning filmmaker, Kathryn Pasternak will discuss the recent success of her $30,000 Indiegogo campaign for her film, DOEVILLE, and what she learned from the process.
Drawing Inspiration with Cartoonist Jim Toomey
Tuesday, November 12 (7 p.m.)
Nationally syndicated cartoonist Jim Toomey, who has been drawing the newspaper comic strip Sherman's Lagoon for almost two decades, uses live drawing to demonstrate how he weaves an environmental message into his work, and how he has taken what he has learned in "old media" and applied it to creating short films and animations for an online audience.
Telling Big Stories Through Tiny Critters
Tuesday, November 9 (7 p.m.)
Center for Environmental Filmmaking Associate Director Sandy Cannon-Brown provides a sneak peak at her new film that explores the culture, economy, and environment of the Chesapeake Bay through the story of the oyster. Sandy will be accompanied by Sarah Gulick (MFA '13/CEF Scholar) and Jackie Yeary (BA '13/Honors) who made films with similar themes.
For more information, please contact Chris Palmer at 202-885-3408 or palmer@american.edu or visit here.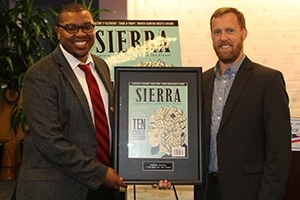 Awareness of the leadership and innovation that American University has shown in its commitment to sustainability is no longer just confined to its campus. Now, others outside the AU community are taking note of the university's efforts and successes in the pursuit of maintaining clean air, safe water, and beautiful landscapes for future generations. Just within the last few months, AU's dedication to environmentally-friendly practices has earned it mentions in both The Princeton Review and Sierra magazine. Also, the Sustainable Sites Initiative (SITES) recognized the landscape project that surrounds AU's School of International Service (SIS) building for its eco-friendly design.
The Princeton Review announced its sixth annual "Green Ratings" recently, and once again placed American University on its 2014 Green Honor Roll. For the third year in a row, AU attained the highest possible score on a scale of 60 to 99. Of the 832 institutions tallied for their environmental practices, policies, and academic offerings, only 22 received the highest possible score.
AU's Director of Sustainability, Chris O'Brien commented on the growing student interest in sustainability, "According to the Princeton Review's annual survey, the majority of prospective students consider sustainability when they choose a school, so AU's inclusion in the Green Honor Role reflects the university's desire to serve the interests of our students."
The Sierra Club's Sierra magazine named AU as one of their "Coolest Schools" for 2013. AU placed ninth in Sierra's seventh-annual ranking of America's greenest and most forward-thinking colleges and universities that are helping to solve climate problems and make significant efforts to operate sustainably. In particular, Sierra highlighted AU's campus-wide composting program as an example of a school taking dramatic steps to help protect the planet and its resources.
The SIS grounds earned two stars in a four-star rating scale from SITES, making the school's grounds one of only 23 sites worldwide to earn a SITES certification, the nation's most comprehensive rating system for the sustainable design, construction, and maintenance of built landscapes. The SITES certification highlighted the SIS building's LEED Gold status, its use of plants that do not require irrigation, the onsite management of 100 percent of the site's stormwater, and the use of rainwater collected from the roof to flush toilets in the building. The SIS grounds earned accolades for its Korean garden with adapted plants, an edible herb garden, an apiary, and its use of regional materials. AU's zero-waste policy also was noted for recycling and composting landscape clippings, debris, and coffee grounds from The Dav, the student managed coffee shop.
Muslim Journeys: American Stories
Book discussion series at American University Library with Professor Randa Serhan, Director of Arab World Studies.
6 p.m.; Training & Events Room, AU Library First Floor
September 26: Prince Among Slaves by Terry Alford
October 10: The Columbia Sourcebook of Muslims in the United States edited by Edward E. Curtis
October 24: Acts of Faith by Eboo Patel
November 7: A Quiet Revolution by Leila Ahmed
November 14: The Butterfly Mosque: A Young American Woman's Journey to Love and Islam by G. Willow Wilson
Middle Eastern fare served at each event.
RSVP is required—email LibEvents@american.edu
October 2, 12 – 1:30 p.m.
American Women Series

Mary Graydon Center
A continuation of last year's series, American Women features alumna of the university in an intimate setting with faculty, staff, students, alumni, and others. Each event will consist of a moderated talk with the alumna, and conclude with a dessert and coffee reception. For more information, contact Megan Patterson at 202-885-5960.
Open Mic Night @ Katzen AU Museum
October 8, 7 – 9 p.m.
American University Museum at the Katzen Arts Center
Hear the illuminating and innovative voices of the AU Community as they express their inspiring stories. We invite you to come out and support these artists during their performances. The stage is open to all musicians, poets, rappers, singers, and comedians to perform.
Gallery Talk: Green Acres with Curator Sue Spaid
October 12, noon
American University Museum at the Katzen Arts Center
Curator Sue Spaid will discuss the Green Acres exhibition, on display through October 20.
Sustainability Tour
October 17, 11 a.m.
American University Museum at the Katzen Arts Center
Accompany Office of Sustainability staff on a guided tour of American University's green buildings, vegetated roofs, green energy systems, and more. The tour begins in AU Museum. These tours are offered in conjunction with the exhibitions Green Acres: Artists Farming Fields, Greenhouses, and Abandoned Lots, and Patrick McDonough: brightveridiansentinelevents, and last approximately one hour.
All-American Weekend at AU Museum
October 19, 11 a.m.
American University Museum at the Katzen Arts Center
Join the AU Museum for All-American Weekend. Participants will unleash their creative side by building terrariums inspired by the current Green Acres exhibition. Admission is free, event is for all ages.
Panel Discussion: Rothfeld Collection of Contemporary Israeli Art
October 19, 2 p.m.
American University Museum at the Katzen Arts Center
Join the AU Museum for a discussion about the Rothfeld Collection of Contemporary Israeli Art, on display through October 20. Panel discussion followed by tour of the collection.
ArtJamz®
October 24, 7 – 9 p.m.
American University Museum at the Katzen Arts Center
Unleash your inner artist with ArtJamz®. You will be supplied with everything you need to create an original work of art, including materials, paints, canvas, and tips, guidance, and encouragement from roving art-trained Creative Enablers. Inspiration provided via great music and refreshments. $35 general admission.
Sip n' Shop
October 26, 4 – 6 p.m.
American University Museum at the Katzen Arts Center
Visit the museum shop to enjoy wine and snacks while shopping. This event will feature one of the local artisans whose work is in the shop, as well as a 20 percent discount on all purchases.
Green Acres: Artists Farming Fields, Greenhouses, and Abandoned Lots and Patrick McDonough
Now through Sunday, October 20
American University Museum at the Katzen Arts Center
This major exhibition of contemporary art addresses ecological issues in the Washington region from the Contemporary Arts Center in Cincinnati, Ohio. The exhibition is curated by Sue Spaid. Patrick McDonough's exhibition examines the relationship between sustainability and aesthetics, a timely and important topic in the face of climate change and increased interest in alternative energy and technologies. Admission is free. For more information, visit http://www.american.edu/cas/museum/index.cfm.
Donald Rothfeld Collection of Contemporary Israeli Art
Now through Sunday, October 20, 2013
American University Museum at the Katzen Arts Center
This is the first exhibition of Donald Rothfeld's extraordinary gift of Israeli art to the American University Museum at the Katzen Arts Center in honor of H.E. Ambassador Michael B. Oren. The 161-piece collection chronicles Israel's history and includes the work of numerous prominent and emerging Israeli artists, including Uri Aran, Yael Bartana, Tsibi Geva, Moshe Kupferman, Siglat Landau, Elad Lassry, and Michal Rovner. The exhibition is sponsored by American University's Center for Israel Studies. Admission is free. For more information, visit
http://www.american.edu/cas/museum/index.cfm.
American Women Series
Farmers' Market
Wednesdays, 11 a.m. – 4 p.m.
University Quad
Every Wednesday in October, AU's Farmers' Market offers a variety of fresh and local produce and baked goods from Agora Farms and Upper Crust Bakery.
Women's Volleyball vs. Loyola (MD) University
October 2, 7 p.m. – 9 p.m.
Bender Arena
The Rocky Horror Show
Thursday, October 17 – Saturday, October 19, and Saturday October 26, 8 p.m.
Saturday, October 19, Sunday, October 20, and Saturday, October 26, 2 p.m.
Friday, October 25, midnight, for AU students
Harold and Sylvia Greenberg Theatre
This sexy, campy, hilarious, interactive cult musical is an ironic homage to science fiction and B horror movies. The bizarre cast of characters, surprising plot twists, and memorable score have kept audiences coming back for over 35 years. Tickets: $15 regular admission, $10 AU community and seniors. Purchase tickets online at american.tix.com or call 202-885-ARTS. http://american.tix.com
Field Hockey vs. College of William & Mary
Sunday, October 27, 2 p.m – 4 p.m.
Jacobs Field
For event details and a full list of all upcoming events, see the University Events Calendar.
For a listing of upcoming events for AU alumni, please visit the Alumni Events Calendar.