Buildings
AU Updates Tenley Neighbors on WCL Project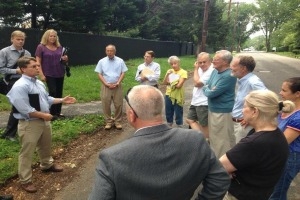 Representatives from American University, Whiting-Turner, and the District Department of Transportation (DDOT) met recently with Tenleytown neighbors, representatives of Advisory Neighborhood Commission 3E, the Tenleytown Historical Society, and the Tenley Neighbors Association to provide an update on the current phase of construction at the new Washington College of Law (WCL).
Neighbors were briefed about the conclusion of excavation and the project's transition to the concrete-pouring phase. They also were told of the completion of the selective demolition inside Capital Hall and the Chapel, and about the installation underway currently of wall foundations and under-slab utilities at the lower parking garage level.
Additionally, presentations were made regarding the proposed traffic circles at 42nd and Warren Streets, a new sidewalk along Warren Street, and a neighborhood request to close or make the block of Warren Street that borders the WCL site into a one-way street.
"Providing regular updates to our neighbors is a big part of all of our projects," said AU's Director of Community Relations, Andrew Huff. "Our Tenley neighbors have been very supportive of the WCL project and we look forward to continuing our relationship with them when the project is complete."
When construction is complete in fall 2015, WCL will be among the most technically advanced law schools in the country and the only one with a courthouse. The 312,000 square feet, light-filled, LEED-certified facility, will include flexible teaching spaces, expanded clinic space, teaching courtrooms, and multiple indoor and outdoor student study and meeting spaces throughout the campus. The enhanced Pence Law Library also will feature an Alumni Center that will provide the more than 18,000 alumni with research and business resources when they visit. The Tenley Campus also is located one block from the Metro, giving the legal community, business leaders, government officials, and alumni better access to the law school while providing students with a direct line to the heart of Washington, D.C.