Please join us for the Teaching, Research, and Technology Workshops
on August 19, 20, 25 & 26, 2015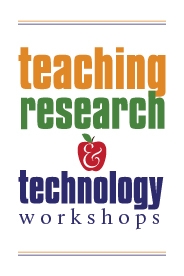 The Center for Teaching, Research & Learning, in collaboration with the University Library, invites you to attend Teaching, Research & Technology - a workshop series demonstrating new and innovative approaches to classroom teaching and research. This year's program includes forty-four hands-on sessions and two luncheon presentations, all of which are described in detail below.
Registration for the 2015 Workshops is now open. 
AU Users: Register for the Workshops
(You will be asked to log in using your AU user name and password.)
Non-AU Users: Register for the Workshops
(Please use this option if you are an external guest, or if you are a new faculty member, and have not yet acquired your AU account.)