Save the Date for the Teaching, Research, and Technology Workshops
on August 19, 20, and 26, 2015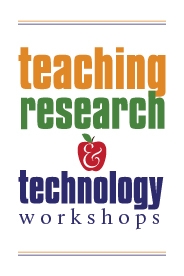 Every year, the Center for Teaching, Research & Learning, in collaboration with the University Library and the Office of Information Technology, invites you to attend Teaching, Research, and Technology - a workshop series demonstrating new and innovative approaches to classroom teaching and research. Click on the links below to see examples of these hands-on sessions from the 2014 workshops.
Registration for the 2015 Workshops will open on July 20. 
The full schedule of the 2014 workshops is available here.
Session descriptions for the 2014 workshops are available here.