ILLUMINATING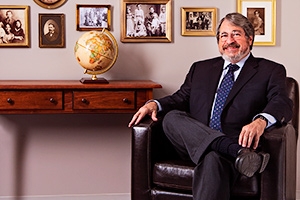 Alan Kraut, CAS
It's no coincidence that Alan Kraut—University Professor of History, affiliate faculty member in the School of International Service, and president of the Organization of American Historians—chose to focus his studies on immigration in the United States, the topic of his latest book in progress, tentatively called The Ultimate Bargain: Negotiating Identity, Becoming American. "My own forebears were immigrants," Kraut said. "When I was born, my family had been in this country for less than 40 years."
He's motivated by a lifelong passion to understand the immigrant experience and how it has shaped not only the people coming to these shores but the country receiving them. Not only has Kraut written, coauthored, or coedited nine books on immigration, but he also chairs the Statue of Liberty–Ellis Island History Advisory Committee, is a consultant to the Lower East Side Tenement Museum, and is past president of the Immigration and Ethnic History Society. His most recent coedited book, Ethnic Historians and the Mainstream: Shaping the Nation's Immigrant Story, is a compilation of essays by prominent scholars of immigration and ethnic history linking their personal pasts with the topics they have chosen to address in their work.
Kraut grew up in New York City, which he describes as a "world of immigrants" that seemed closer to Europe than the New World, with its multiplicity of languages, foods, and cultural customs. Kraut's mother's family was from Hungary and Prussia, his father's family from Poland. It was his father, a factory worker, who sparked his son's interest in history. The two of them would either go see the George Washington statue in front of Federal Hall and the George Washington museum above Fraunces Tavern, or the toy soldiers in Macy's toy department. "We couldn't buy those toy soldiers," Kraut recalls, "but we could look at them and talk about them and the wars in which they participated. That's really where I got my first taste of history, in the museums and in the parts of New York City when we would walk together."
Kraut's book will explore the process of integration of immigrants and their children that follows a big wave of immigration—in this case, three different time periods from the 1850s to the present. Today, the presence of 38 million foreign-born people in the United States makes immigrant integration a hot issue, as the battles over major immigration legislation at the state and federal level demonstrate. "People are interested and want to know how did we do this before," he says. "Only a historian can say how we did it in the past."
Kraut notes that one way immigrants past and present have integrated themselves is by changing their foreign names to something more easily understood, and pronounced, by English speakers. More radically, immigrants sometimes undergo surgery to change their appearance. They also immerse themselves in American culture through television and sports. "Sports are very important in America," Kraut points out, quoting cultural historian Jacques Barzun, who wrote, "To understand America, you must understand baseball" for the way it reflects American values.
Kraut views this as a fortuitous time for a book dealing with the topics of immigration and integration into American society. Though the intensity of the waves may ebb and flow, immigrants have never stopped coming to the United States. "They're going to be your neighbors. They're going to be the people that work with you and for you, or whom you work for," he says. "They pay taxes. Shouldn't we be concerned about integrating them into society?"
New Book Examines FDR's Response to the Holocaust
A new book by American University history professors Richard Breitman and Allan J. Lichtman, FDR and the Jews, probes accounts of Franklin Delano Roosevelt's response to the suffering and slaughter of Jews in Nazi-occupied Europe to uncover and re-evaluate Roosevelt's true strengths and failings. The conclusion? FDR did far more to help European Jews than did any other world leader of his time.