LEADING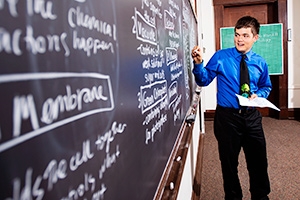 Stephen Bronskill '13
Talk to anyone who knows Stephen Bronskill, SPA/CAS/BA '13, and you'll hear the same thing: he's motivated, engaging, a natural leader, and a community builder. The 21-year-old, who describes himself as "interested in the intersection of the political and environmental realms," also accumulated a notable number of honors during his time at American University: a White House internship; two degrees—one in environmental science, the other in political science; the President's Award, AU's highest undergraduate honor; a national Udall Scholarship for his commitment to environmentalism; and the Stafford H. Cassell Award for his dedication to the university.
As a freshman, Bronskill threw himself into the many opportunities offered through the SPA Leadership Program and the university as a whole. As part of University College, he and other students lived and took seminars together and participated in community learning experiences.
Bronskill credits his time at AU with fueling his interest in politics. "AU really empowers students to figure out what it is they want to do," he says. During his first year, he became involved with the College Democrats and with Eco-Sense, a student environmental club of which he would become president. It was while still a freshman that Bronskill attended a leadership conference at the U.S. Naval Academy, where he heard journalist Tom Brokaw talk about the need for civilian leadership academies not unlike the military service academies.
Inspired, Bronskill started and led the on-campus Community Service Coalition as part of an SPA Leadership Program project. Composed of about 40 campus groups, the coalition facilitates the exchange of resources and ideas for community service projects. He followed this initiative with a White House internship in his junior year, working in the Visitors Office. The experience was intense and time consuming, but worth it, he says: "It was an amazing opportunity to see public servants at work."
Along the way, Bronskill also found time to intern with the environmental justice organization Groundswell—one of the several internships he had while at AU. "The beauty of being in D.C. is that there are so many organizations that need interns for things," he says. "This city is a laboratory."
The desire to gain a more global perspective on environmental issues eventually took him to India for a semester. Encouraged by faculty members to make the trip, Bronskill saw this as an opportunity to study firsthand how a rapidly expanding economy and population affect sustainability. Returning to the United States, Bronskill took time to work for the Washington Bus, a Washington State–based organization that encourages young people to get involved in the political process.
After a senior year during which he was a program assistant in University College and the student director of the SPA Leadership Program, Bronskill is now teaching ninth-grade biology in the Mississippi Delta region through Teach for America—a development he traces back to another SPA Leadership Program project, when he first got a taste of teaching with a nonprofit that served African American boys in D.C.'s Wards 7 and 8. "I want to learn how the policies I've studied over the last four years actually affect people," he says. "The opportunity gap in education is one of the biggest social justice issues."
Seven Jack Kent Cooke Scholars Study at AU
Guatemalan-born Lesli Flores recalls her reaction to hearing that a scholarship from the Jack Kent Cooke Foundation would allow her to pursue her passion for juvenile law at AU: "I started crying because . . . I can actually achieve all of my dreams and goals." Flores is one of seven scholarship recipients—from across the country and abroad—who chose to attend American. The prestigious scholarship, established by the late Washington Redskins owner, recognizes high-achieving students who demonstrate a passionate work ethic and financial need.