CREATING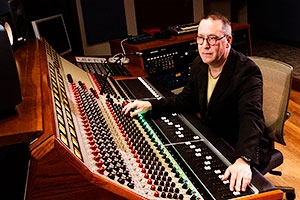 Greg Smith, CAS and SOC
They are the exact same sounds Abraham Lincoln would have heard: the ticking of his pocket watch, the bell tolling for church services at St. John's Episcopal Church opposite the White House. These auditory details help to build the stunning on-screen reality of Lincoln, Stephen Spielberg's exploration of the president's life in Washington during the Civil War. They were brought to the screen by School of Communication film professor and alum Greg Smith, who as assistant sound designer for the movie helped give historical authenticity to the project by walking in Lincoln's footsteps to capture what he heard during his presidency.  Smith, who also teaches audio technology in the College of Arts and Sciences, was recruited to the task by his mentor, Ben Burtt, who called him up one day to ask, "What sounds did Lincoln hear?" The question set Smith thinking not only about the noise-scape of Washington 150 years ago but about how to incorporate particulars into the movie. Fortunately, Smith says, "many of the sounds needed were right here in D.C. It was just a matter of trying to find them."
Take the bell: working with one of his students, Smith climbed into St. John's bell tower to record the same one that pealed during Lincoln's time. "We were told that we were the first people to go up into that bell tower in over 50 years," he says. "Lincoln also walked on the very same floorboards that are in the church today," he adds. "I was able to get the sounds of the wood creaking as well as the creak from the pew where Lincoln actually sat."
Gaining access to record in the White House proved a challenge at first, but once given the green light, Burtt and Smith were able to record sounds made by opening, closing, and knocking on doors located in the East and Green Rooms, as well as the sounds of three mantel clocks from Lincoln's time. At the Studebaker National Museum in Indiana, the pair found the carriage in which Lincoln took that final ride to Ford's Theatre the night he was assassinated, recording the opening and close of the door and the squeaky suspension. Another highlight was being able to record the sound of Lincoln's gold pocket watch. When the Lincoln watch at the Smithsonian Institution was unavailable because it was being prepped for an exhibition, Smith found another, passed down from Mary Todd Lincoln, that was located at the Kentucky Historical Society library.
Why does he go through so much effort to record authentic sounds when he could just mimic them using a modern equivalent or digital technology? Smith acknowledges that there are easier ways of creating a movie soundtrack, but, "I figured, why not do it?" Smith says. "And it's fun. I've spent years recording sounds all over the world, and in fact, donated quite a few of them to the Bender Library in a sound effects collection. It was also fun to challenge myself to be historically accurate. It made the project a lot more important to those of us working on it. If we have the opportunity to record accurate, authentic sounds, we always try to take advantage of it." 
SOC Professor Researches Web Governance
In her book The Global War for Internet Governance, School of Communication professor Laura DeNardis explores the positives and pitfalls of a rapidly changing oversight process that increasingly relies on private companies rather than nation-states.
"Governance is set through some government policies, but also through the policies of private companies like Google, Twitter, AT&T, and Verizon," she says. "When a government wants to control or regulate some aspect of behavior online, they can't do it directly. They have to go through an information intermediary, a private company. This raises a lot of questions about accountability and the obligations that are being placed on private entities."