EXPANDING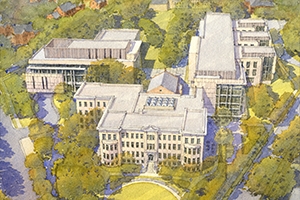 Washington College of Law, Tenley Campus
The historic Tenley Campus in northwest Washington, D.C., will be the new site of the American University Washington College of Law (WCL). More than 200 members of the law school community—students, alumni, faculty, staff, and friends—attended the June groundbreaking. Claudio Grossman, dean of the law school, underscored the significance of the event, noting that the new campus would be a permanent home "that reflects our standing and stature as a world-class institution [and] that fully realizes the vision of our founders in today's changing world, where diversity is no longer a dream but a reality."
The campus occupies eight acres located one block south of the Tenleytown Metro station, making it readily accessible to the area's legal community, business leaders, government officials, and alumni, as well as providing students with a direct line to the heart of Washington, D.C., and the courthouses of Judiciary Square.
When construction is complete in summer 2015, WCL will join the most technologically advanced law schools in the country. Capital Hall, facing Tenley Circle, will be renovated to accommodate administrative offices and workspace for the law school's 17 student publications, and its former chapel will be converted to a 60-seat courtroom for use by trial advocacy classes. Two new light-filled buildings will offer flexible teaching spaces, faculty offices, expanded clinic space, teaching courtrooms, and multiple indoor and outdoor student study and meeting spaces. The school's 18,000 alumni will also appreciate the enhanced Pence Law Library, which will provide visiting alumni with research and business resources. The new campus will retain its central quadrangle as an open green space, and improvements on the front lawn will increase opportunities for public access and enjoyment.
Innovation has always distinguished WCL. Even its founding in 1896 was remarkable for the fact that it was the first law school in the country to be established by women. More than 100 years later, AU's law school remains grounded in the values of equality, diversity, and intellectual rigor. Its nationally and internationally recognized programs—in clinical legal education, trial advocacy, international law, and intellectual property, among others—and dedicated faculty annually provide 1,700 JD, LLM, and SJD students with the critical skills and values to have an immediate impact as students and as graduates.
"This is a very important milestone for American University and for the Washington College of Law," AU president Neil Kerwin told the guests. "This university and this law school will continue to bring enlightenment, diversity, access, and creativity to not only the practice of law but to the behavior of all legal institutions. This project is indeed a bold statement, a confident statement, of how badly the city of Washington, the United States, and the world at large needs the extraordinary work that is done by this law school."
Distinguished alumni, including Robert Pence '71, Stephen Skippy Weinstein '65, Judge Dorothy Beasley '65, Judge Gerald Lee '76, Edna Ruth Vincent '89, and Ken Lore, chair of the Dean's Advisory Council, were also on hand to give brief remarks, reminiscing about their experiences at the law school and celebrating the potential of this new phase in its history.
"It was really striking to see how beautiful the new campus is. This campus is the solution we have always hoped for—we are going where we ought to be," said Elliott Milstein, former dean of WCL and past president of the Association of American Law Schools. "Being at this event really makes us feel connected to the long and glorious history of the law school. The new Tenley Campus will also be a fine place for our clinical program—a great space for a teaching law office and easy for our clients to find."
Chief Legal Counsel Honored for Achievements
Mary Kennard, chief legal counsel for AU and a university vice president, was honored with the 2012 Corporate Counsel Career Achievement Award, given by the Washington Metropolitan Area Corporate Counsel Association (WMACCA). As a longtime board member for WMACCA, Kennard helped create a student internship to interest more law students in corporate counsel work—a program that has since been replicated all over the country. "For me, helping law students is a great way to build the pipeline." she says. "My work with WMACCA is an extension of the work I'm doing at AU."