SUSTAINING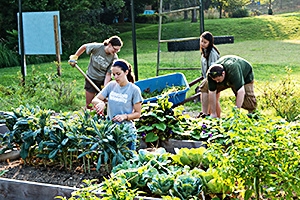 AU's Community Garden
Can an orange container help save the planet? Yes, if it's one of the composting bins introduced this year to encourage the AU community to recycle organic waste such as food scraps, pizza boxes, even napkins.
The campus-wide composting push, along with other initiatives like a recent transition to biodiesel and an effort to make campus office spaces greener, moves the university ever closer to its goal of carbon neutrality by 2020. When AU president Neil Kerwin signed the American College and University Presidents' Climate Commitment (ACUPCC) in 2008, he pledged that the university would take meaningful steps to address climate change. Within two years, an ambitious plan was unveiled that would not just reduce but eliminate altogether the institution's greenhouse gas emissions. Three years later, that framework is transforming many facets of AU community life.
In line with the ACUPCC requirements, AU has adopted a green building policy as well as a sustainable purchasing policy; encouraged public and multimodal transportation; sourced 100 percent of electricity from renewable sources; and initiated campus recycling, composting, and repurposing plans.
The Terrace Dining Room and other dining facilities around campus first began composting organic waste in 2009, when 99 tons of food scraps were separated from the regular garbage destined for landfill. The following year, a group of students, led by the university's Office of Sustainability, conducted an audit of waste generated in the residence halls and discovered that paper towels from restrooms accounted for 13 percent of that waste. As a result, they worked with housekeeping and grounds staff to direct bags of used paper towels from the restrooms to the same containers where food scraps are collected for composting.
This year, the Office of Sustainability figured it was time for the entire university to follow suit in an effort to reach zero-waste status. "A big source of our waste is materials that can be composted," Chris O'Brien, AU's director of sustainability, says. "So composting is a really important change for us."
The Day-Glo bins are a highly visible reminder of this latest phase of the composting initiative. So far, they appear to be making a significant difference. The amount of compostable materials diverted from landfill increased to 742 tons last year—more than seven times since the initial year.
The overall AU climate plan relies on four strategies to achieve neutrality—reduce consumption; produce renewable energy in the form of wind, solar, and waste; buy green power; and buy or develop offsets for travel and other unavoidable emissions. The university has made great progress in most of those areas, according to O'Brien.
Already key organizations have recognized the university's sustainability efforts. In 2012, American University earned the Green Power Leadership Award from the Environmental Protection Agency (EPA) for its commitment to purchasing renewable energy. AU ranks among the top 20 on the EPA's list of green power users in higher education. And for the third year in a row, the Princeton Review named AU to its Green Honor Roll for achieving the highest possible green score in its college rating system in 2013. Only 21 of 322 schools reviewed this year in the Guide to Green Colleges were named to the honor roll.
AU Combines Service with Sustainability
"An Active Pursuit of Sustainability" was the theme for AU celebrations of Earth Month 2013. Partnering with the nonprofit Anacostia Riverkeeper and the National Park Service, students, faculty, and alumni helped clear invasive species and litter from Kenilworth Aquatic Gardens, one of the last functioning wetlands in the Anacostia River watershed, as part of a first-ever Day of Sustainability Service.
Another step in the university's Zero Waste Policy was the third annual Project Move-Out, an initiative that collected thousands of unwanted clothes and household items at the end of the academic year and donated them to local charities.