SERVING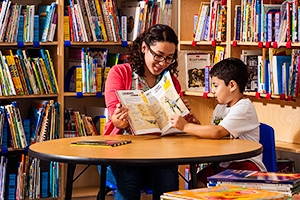 Mayra Rivera '13
A desire to serve and a passion for working with children have helped Mayra Rivera, CAS/BS '13, chart her postgraduation path. The daughter of El Salvadoran immigrants, Rivera excelled at Bell Multicultural High School in the Columbia Heights neighborhood of Washington, D.C., but was uncertain about applying for college. Happily, a visit to Bell from an AU representative changed her mind—and, eventually, her life.
"I never heard of American University, even though I lived here in Washington, D.C.," Rivera says. "But during my junior and senior year, we had a representative from AU come over and give us a presentation, and I started thinking about it." Rivera decided to apply and, with the help of a competitive financial package, was able to attend.
Aware that she was blazing a trail for other members of her extended family, throughout her four years at AU Rivera sought out student employment and volunteer opportunities as a way to hone her skills and give back to her community. Federal work-study (FWS) positions—including a year with D.C. Reads and two at Kid Power, obtained with the help of the Career Center's student employment coordinator Tasha Daniels—showed Rivera the pressing need to educate children about health basics and to empower them to make healthy choices.
Just as important for Rivera's commitment to community, with both FWS opportunities she was able to stay local while focused on her educational goals. Through D.C. Reads, she worked with students one-on-one at CentroNía, a bilingual charter school in Columbia Heights located just five minutes from her family's home. Kid Power, which offers after-school and summer programs to more than 350 D.C. children, is located in D.C.'s Shaw district. At Kid Power, Rivera worked as an FWS employee and an intern, developing and teaching lessons for Veggie Time, an acclaimed, hands-on program that introduces students to gardening and nutrition through eight garden sites in the city; its innovative approach has been featured on local radio and television.
Energized by her experience at Kid Power, Rivera decided to apply her degree in health promotion to create programs that will empower kids to take control of their bodies through exercise and good nutrition habits—lessons that can also be applied to other areas of their lives. Although Rivera hasn't ruled out attending graduate school or volunteering with other health- or children-focused nonprofit organizations, her eventual goal is to get hired for a paid position where she can continue introducing students to healthy recipes and eating habits.
Without these FWS opportunities, Rivera says she's not sure how she would have been able to so effectively prepare for her career. "I never heard of Kid Power or D.C. Reads before federal work-study, but it's my interest to work with kids and to help them," Rivera says. "If it weren't for [FWS], I don't know how I would get this experience."
In fact, the Kid Power organization has been and remains a popular employment and volunteer opportunity for other AU students and alumni. In fall 2012 alone, five to six AU volunteers could be found at each of Kid Power's 10 sites, working alongside 44 FWS students from the university. "We had this close connection," Rivera says of her AU peers who also worked with Kid Power at its summer camp. "We hung out, we had dinner and stuff together—we created this little AU family."
Research Center Focuses on Issues for Latinos
AU's Center for Latin American and Latino Studies continues to produce robust scholarship with practical applications. Among this year's highlights: an examination of the positive effect and potential benefits of an arts-based after-school program on Latino students' self-esteem, attitude towards school, and academic performance; and an investigation of Latino entrepreneurship and how faulty decision-making patterns constrain business growth.