INNOVATING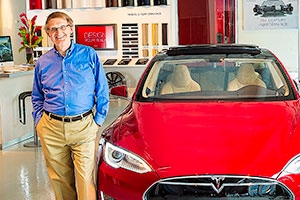 Stevan Holmberg, Kogod School of Business
Alliances are key to entrepreneurial success, potentially playing a role in every stage of start-up evolution, according to Stevan Holmberg, professor of management at the Kogod School of Business and director of the Kogod Entrepreneurship Initiative. Innovative firms use alliances to overcome weaknesses ranging from insufficient funds to gaps in distribution channels. The right alliances can even boost a firm's reputation, if it partners with a well-known brand whose participation yields a stamp of approval.
Holmberg points out that entrepreneurs whose alliances work tend to do two things correctly. They think strategically, asking two questions: What are the critical success factors for my entrepreneurial venture? What are the roles of alliances in those critical success factors? They also choose partners carefully, performing due diligence to ensure that conflicts in culture, resources, or relationships do not cause an alliance to implode. "It's not an uncommon strategy, but it is one that's fraught with a lot of problems, and a high proportion of alliances fail," Holmberg says.
Focusing on Tesla Motors, an entrepreneurial company well outside the automobile manufacturing establishment, Holmberg has analyzed the alliances with suppliers, research and development experts, and original equipment manufacturers, or OEMs, used by Tesla to develop and launch its electric vehicle (EV) Roadster in 2008.
All alliances are not created equal, but Holmberg believes that Tesla has figured them out. Even as it partnered with other companies, Tesla protected its core technology by assembling the cars at its own manufacturing facility. Tesla also created R&D partnerships. The Dana Holding Corporation, for example, helped it overcome a technological obstacle by designing a system that could control heat buildup in the cars' batteries.
In some cases, Tesla has served as the OEM for other companies, providing battery packs and chargers for Daimler's "Smart Car." The benefits were both financial—Daimler reportedly gave Tesla $50 million for a 10 percent stake in the start-up's equity—and reputational. "The Daimler alliance represented an endorsement by a premier automotive manufacturer that further enhanced and verified for the broader market Tesla's competencies, technologies, and ability to deliver results," he maintains.
Holmberg emphasizes that alliances also have a role to play as a company matures and can help companies survive the "valley of death" that strikes many middle-stage businesses, when they have gained some traction but lack funding for full-scale production.
In a series of deals, Tesla agreed to help Toyota create a plug-in EV version of its RAV4 SUV and to develop the electric powertrain for the RAV4. In turn, Toyota has helped Tesla source parts and provided production and engineering expertise for Tesla's Model S. The Toyota alliance also enabled Tesla to secure its manufacturing facility, Holmberg notes.
"This is a huge, transforming kind of alliance for this stage of Tesla," Holmberg says. "They couldn't have done it early on. It wouldn't have been appropriate, and Tesla didn't have the pieces put together to be attractive at that point."
Holmberg is now working on a comparative study of electric vehicles and hybrid electric vehicles in the United States and Scandinavia, which has been a global leader in adopting innovative and clean vehicle technologies. America's current interest in EVs marks the fourth time in history such cars have been on the market. More than 100 years ago, electric cars actually outnumbered gas-fueled cars, thanks to Thomas Davenport's 1834 invention of a battery-powered car. EVs also enjoyed short-lived resurgences in the late 1960s and early 1970s, and in the early 1990s.
Now, however, a confluence of factors is taking shape that may enable EVs to take hold. Holmberg's work is analyzing this landscape in which companies like Tesla, trying to put down a very different kind of root in an entrenched industry, might actually have a chance to succeed.
Kogod Provides Forum for Idea Exchange
Kogod's Center for Information Technology and the Global Economy aims to close the gap between private- and public-sector producers, providers, and users of new technology. "No place is better suited for CITGE than D.C.," says Mike Carleton, a senior research fellow at the center. "There's such a rich blend of government, business, and academic resources here."