GIVING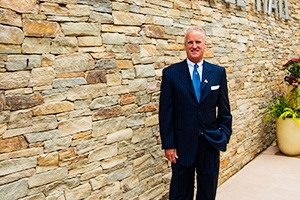 Jack Cassell '77
In January 2013, AU announced that its newest residence hall would be named Cassell Hall in recognition of $3 million in gifts made by Jack Cassell (SOC/BA '77), his wife, Denise, and the Cassell family to support the residence hall's construction and AU's Department of Athletics and Recreation.
Cassell Hall embodies many firsts: first major building initiative of the university's 2011 campus plan; first AU residence hall to be named for a philanthropic gift; first residence hall to be built on campus since Centennial Hall opened in 1987. Designed to achieve Leadership in Energy and Environmental Design (LEED) Gold certification, it accommodates 360 upperclassmen in suite-style rooms, while a 8,000-square-foot fitness facility, named the Stafford H. Cassell Jr. Fitness Center in honor of Cassell's twin brother and fellow AU alumnus, will double the amount of fitness space on the main campus.
The residence also celebrates the Cassell family's long relationship with AU. A recipient of the Alumni Achievement Award and AU President's Award, Jack Cassell also has served as chair of the AU Athletics Committee and is a devoted trustee, never missing a meeting during a nearly 10-year tenure.
But Cassell's AU roots go back even further than his student and adult involvement. He was only four years old when his father, Stafford H. "Pop" Cassell, CAS/BA '36—an AU student, coach, athletic director, and vice president—moved the family into a rented apartment on campus. It was the first time the younger Cassell remembers feeling like a part of the AU community. When his father died just six years later, Pop's colleagues looked out for Cassell's widowed mother, Carolyn, and the rest of the family. Cassell never forgot that generosity; he became determined to give back to the community that had shown so much support.
Cassell followed his father to AU for college, where he was the starting goalie on the varsity soccer team, tying the record for the least number of goals allowed in a single season. One of his proudest moments came when he earned a letter jacket for his soccer achievements. "It was so special to me because it reminded me of my dad. He always wore his AU letter jacket around campus on the weekends," Cassell says. He also excelled in other areas, as president of Phi Sigma Kappa fraternity and recipient of the Stafford H. Cassell Student Achievement Award—named for his father.
Armed with a communications degree and with the encouragement of his mentor and former dean of students Edward Boehm, Cassell applied for a job at Visual Aids Electronics (VAE) and became a rental technician at the firm. Advancing rapidly through every position, he became president of VAE 10 years later and soon after bought the company. When Cassell started with the firm, it had 25 employees and three offices; today, it boasts more than 900 employees in 80 offices across the country.
Discussing his family's gift, Cassell expresses the hope that it will spur further alumni giving. He also maintains that none of his contributions to AU would have happened if not for his father's passion for AU. "It's not my legacy we are honoring; it's my dad's," he says. "I'm sure my father would be floored at how far the university has come over the years. It's a gorgeous campus now.
Donors Create a Legacy of Art at the AU Museum
Mitchell Berliner, Kogod/BS '70, and his wife, Debra Moser, share a passion for American craft—artwork created from wood, glass, metal, and textiles. Over the last 40 years, the couple has amassed a noteworthy collection, including works by Dale Chihuly and John Cederquist. They recently made provisions in their charitable estate plans to leave the collection to the Katzen Arts Center's American University Museum. "The Katzen is a beautiful arts center and, given our ties to AU and the community, the perfect home for our collection," says Moser.