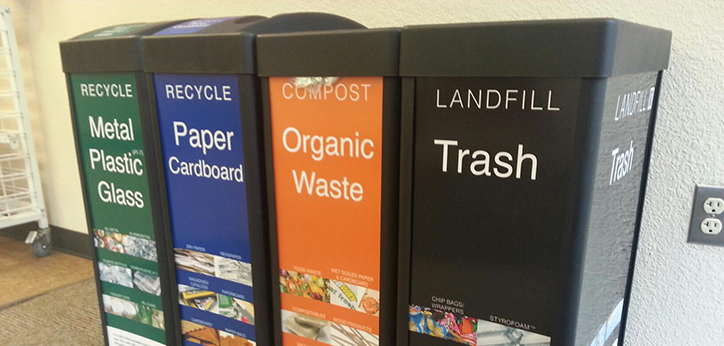 By Mike Mastrota
Surprise was the reaction that quickly spread throughout the American University community when long time Assistant Vice President Jorge Abud announced that he planned to retire at the end of March. Our surprise turned to envy as we all imagined being in a position to say goodbye to our commutes, long hours, and evening meetings while still quite a few years shy of age 65.
Similar emotions probably also were felt by Vice President, Don Myers, who hired Jorge 33 years ago and has relied on his right hand man the entire time. Don recently acknowledged, "It will be very difficult to imagine American University without Jorge Abud on my team.  Jorge has led units in the Finance Division with a steady hand, professional excellence, and untiring commitment. We will miss him tremendously."
Jorge's dedication and leadership over the past 33 years guided the university through tremendous growth. The physical square footage of building space has more than doubled to 3.8 million square feet during that time, with another 800,000 square feet planned or under construction. Indeed, American University will miss Jorge tremendously and finding someone to fill his large shoes will be difficult. The search is under way, and Jorge has started documenting a helpful set of guidelines to help his replacement.
Back in 1979, after a three-year stint working as an auditor for Amtrak, the long hours, extensive traveling, and realization that he did not want to spend his career as an auditor, led Jorge to begin seeking other opportunities. Jorge was attracted to AU because he saw career growth opportunities and thought he could follow a similar path as that of his new supervisor, Don Myers, who also started his career as an auditor.
When Jorge first came to AU, he was asked to project energy costs and help develop energy conservation strategies. The university, like the nation, was facing challenges stemming from the oil crisis of the late 1970s and early 1980s. 
As the energy situation improved, the university acquired an adjacent nursing home with the idea to convert it into a new residence hall (Nebraska Hall). Without an in-house design and construction management staff, Don Myers challenged Jorge to manage this conversion project. Jorge's initial perception that AU might offer new opportunities for him was correct, as his role evolved from auditor to facilities project manager. He gladly accepted the challenge and served as AU's representative throughout the design and construction of the project. Jorge always had an interest in engineering and construction, something his father encouraged him to pursue, but without formal training he had to learn on the fly.
This initial jump to the world of facilities management continued to expand as AU's next extensive planning project was in the works. This aggressive series of projects would create an on-campus sports facility (Bender Arena), parking garage, connection to Mary Graydon Center, and a new residence hall (Centennial). Add to that the acquisition and conversion of a satellite campus at Tenley Circle and Don Myers and Jorge realized they needed an in-house support staff to manage these projects.
This set in motion for the creation of what later became the Office of Design and Construction. Jerry Gager was added as a staff architect to manage the sports center project along with a new construction manager. This was an incredibly busy period that defined the roles and many of the processes that we know today in the offices of the University Architect and Construction Management.
It was not until the mid1980s that the role of Assistant Vice President of Facilities really took shape and Jorge became in charge of Physical Plant and Design and Construction department.  Over the years, other units such as Telecommunications, Public Safety, and Auxiliary Services also came in and out of Jorge's domain.
Jorge's first exposure to the campus plan process came in 1987. He recalls that the process was moving along quite smoothly and the university had developed a good relationship with the neighbors. The plan was on track to be approved by the Board of Zoning Adjustment when an adjacent residential property was purchased by an attorney. The new neighbor began to question the proposals of the campus plan and rallied support of the neighbors to challenge the plan. This unexpected curve ball delayed the approval for another two years and strained the relationship between the university and its neighboring communities.  
The university had completed a systematic and extensive renovation process of the residence halls during the mid-1990s and Jorge realized that the classroom space also needed to be modernized to keep up with the competition.  Under Jorge's leadership, for the first time, his staff considered classroom utilization, evaluated audio visual needs, and studied the competition. They developed a model classroom that sparked excitement and support from within the faculty. This resulted in the renovation of the Ward Circle Building which was the catalyst for similar renovations to Myers Hutchins (known as Kogod today) and the Battelle Building. These projects raised the bar for all classrooms. Jorge is particularly proud of this project as it marked the first time a need was recognized and a solution was developed all from within the Facilities group.
As you would expect, retirement was not an easy decision for Jorge and is something that he has planned carefully for many years. Jorge reasoned that with the new campus plan in place and new projects under construction, this seems like as good a time as any. Jorge noted that he was committed to see his third campus plan through the process and admitted that the numerous evening meetings and strains of the process does take its toll. He was quick to point out that the one thing he will miss most is working with a talented and dedicated staff that we all enjoy.
Jorge looks forward to spending time in his garden and with his camera – two of his favorite hobbies that he has not had much time for recently. He also plans to catch up on some home renovation projects that have been pushed aside. Jorge is also open to the idea of doing some consulting work on a part-time basis. Who knows, we might see Jorge involved in the next campus plan after all - as a consultant.
On behalf of the entire university and particularly our Facilities staff, we wish Jorge nothing but the best on his new endeavors. His legacy of leadership and results throughout his career speak for themselves. Please watch for more information about a farewell event in the coming weeks.
By Helen Lee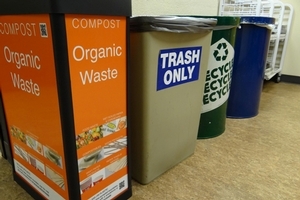 The long anticipated organic waste collection is finally here. Recently, more than 150 containers to collect organic waste were installed in the student lounges and kitchen areas in the main campus residence halls. Now student residents have the opportunity to give a second life to napkins, food waste, paper cups, and other organic waste that were once sent to a landfill stream. The participation level has been so high we had to install additional containers in the halls. We have been working very closely with our enthusiastic ARAMARK housekeeping employees who have been a tremendous help in installing and advocating for these containers. The AU Sustainability Green Eagles also have been in action, surveying the student residents, educating on organic containers, and being our eyes and ears for the new program. Finally, our wonderful Housing & Dining office have worked with their Resident Directors and RAs to plug in the zero waste spirit into the halls and helped train and educate the students. This has been a collaborative team effort and credit goes to Housing & Dining, Sustainability Office, Facilities Management, ARAMARK housekeeping, Procurement, and most importantly our student body for helping get this project up to a successful start.
AU is eager to roll out the organic program to the rest of the community but, because this is a new process, we are working to perfect the logistics and implementation of the program in the residence halls. Organic waste containers will be installed in the academic and administrative buildings throughout March. For more information on organic waste collection, please visit: www.american.edu/zerowaste and like us for frequent updates on www.facebook.com/ZeroWasteAU!  
AU Staff Council's Service Programs Shows Reusing at its Best!

AU Staff Council have been super active in helping AU reach its goal of zero waste. This winter, they hosted two of their annual winter-wear drives collecting more than 100 coats and more than 10 boxes of hats, gloves, and scarves. Not only were these used winter-wear diverted from the trash to landfill stream, they were donated to a local organization, Wider Circle, that helps impoverished children and adults in the Greater Washington area. In February, the AU Staff Council stepped up again and organized a spring "Book and Media Swap." Tables were neatly lined up in Bender Arena where the AU community dropped off their used and unwanted books, CDs, DVDs, and other media. Later that day, the participants picked up new items in exchange for the same number of the items dropped off that morning. This is a great annual event so if you missed this year's winter-wear drive and book/media swap, make sure to follow AU Staff Council on their web site at www.american.edu/AUStaffCouncil
for the next similar event.
By Kristine de Leon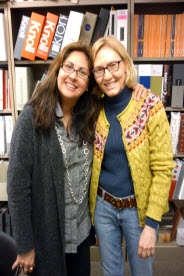 Maria Lopez and Kelly Keegan, Office of University Architect
"We are Interior Designers, not DECORATORS!"
American University houses their own set of Interior Designers, Kelly Keegan and Maria Lopez. Both have been working at the University for the past ten years and have transformed the interior appearance of each building from traditional to high end, contemporary.
So what exactly do Interior Designers do? Kelly and Maria help enhance the interior space of buildings by making them warm and inviting as a means to attract prospective students and to create a comfortable space for the students, faculty, and staff.
Kelly and Maria will usually sit down with their clients (staff/faculty) to understand their needs and vision for the space. This often includes new furniture, flooring, wall coloring, trimming, and lighting. As for the design, some things they consider are function, feeling of the space, design intent, cost, and durability. Both designers noted that durability and cost are important factors when it comes down to the final decision. They each strive for long lasting, good looking furniture pieces.  A lot of furniture pieces, such as lounge couches get abused by coffee spills and multiple uses by students, faculty, and visitors. This is where cost factors in. The longer lasting a piece of furniture is, the more reason to invest in the quality. That is their motto. At times though, budget cost will affect their project and therefore they may not have the option of choosing a more appealing piece of furniture.
Both Kelly and Maria started out in different fields. Kelly has a background in Art History, while Maria is a trained Architect. They attribute their knowledge from the different disciplines when it comes to designing. Kelly often uses her visual sensory that she acquired while studying Art History, by implementing the blend of colors, sense of proportions, and composition when designing spaces. Maria worked as an architect for four years before she realized it was not for her. A firm she worked for had an interiors department, which she had the opportunity to work on a couple of projects. She realized she liked interior design, because it was more design based then architecture. Both Kelly and Maria agree that Interior Design is very similar to the profession of an Architect, but the noted difference is that they envision space from the "interior to the exterior" versus from the "exterior to the interior."    
When they look at a floor plan, they image themselves walking through the space and they are able to design within their minds. They noted that often times, people forget to account for furniture placement when it comes to designing spaces. This often results in a lack of space to fulfill the client's furniture need. 
Currently, both are working on big projects that involve collaboration with hired designers. Kelly is currently working on the new WAMU radio station at 4401 Connecticut Avenue, while Maria is working on the finishes for Cassell Hall and the Nebraska Hall addition. Kelly and Maria hope to continue improving the look of the University for many years to come. So the next time you sit on a couch or a chair, remember to be aware not to spill your drink on it!
By Holly Mussatti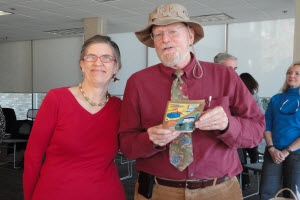 Moira and Willy Suter
Facilities Management entered a new era on Friday January 4 when
William "Willy" Suter retired after serving as Director since May 1994. A reception honoring Willy that highlighted his AU career accomplishments was held in the McDowell Formal Lounge on his last day with members of his family, department co-workers, and campus peers present. 
American University was a very different place 18 years ago when Willy was hired to lead Facilities Management, then known as Physical Plant Operations. At the time, management of Facilities was being brought back in-house from an outsourced company. Dr. Neil Kerwin spoke and explained how Willy's superb leadership and influence were instrumental to all of the innovations and improvements that have led to the Facilities Management that we know and rely on today. Assistant Vice President Jorge Abud described how the changes to the department and the improvements to the campus and facilities grew out of the strength of their working relationship. Additional testimonials and anecdotes were provided by Mark Feist, Holly Mussatti, CJ Lucas, Paul Miller, and Donald MacIntire.
In addition to developing the processes and procedures to propel the department into a cohesive and responsive service organization, Willy was the advocate for several key campus initiatives. He was an early proponent for AU to embrace sustainability as a campus-wide strategic priority, championed for energy conservation and resource efficiency, and oversaw the creation of the award-winning AU Arboretum.  
Willy instilled a culture of lifelong learning for the staff. He was actively involved in the Association of Physical Plant Administrators (APPA) at the local, regional, and national levels serving on boards and committees. He was the first APPA representative on the High Performance Building Council, participated in the inaugural Senior Facilities Officers Summit, and served as the 2008 ERAPPA President. During Willy's tenure as Facilities Director, APPA recognized AU as a recipient of the first APPA Sustainability Award and as a leader in Innovative Practices for university facilities.
Besides being known for arriving early and staying late if needed, Willy was a consistent presence on campus during key campus events and snow emergencies.  Willy started his facilities career as a groundskeeper for George Washington University, proving the point that if you put your mind to it and apply your talents, you can climb the ladder of success. You may say that Willy started from the ground up!
We will all miss you Willy. Enjoy retirement and good luck fishing.
By Mark Feist
On November 5, 2012 Dr. Kerwin announced to the American University community that the campus would go smoke and tobacco free. The new Smoke and Tobacco Free policy is similar to that of more than 600 colleges and universities nationwide. A project team was created on December 14, 2012, co-chaired by Beth Muha (AVP, Human Resources) and Rob Hradsky (AVP, and Dean of Students, Campus Life). Both Jerry Gager and Mark Feist serve on this project team as Facilities representatives. The Smoke and Tobacco Free policy will be implemented fully at the start of the fall semester on August 1, 2013.
American University's decision to go smoke and tobacco free was part of our commitment to wellness, public health, and sustainability. Health concerns resulting from second-hand smoke, LEED requirements, and campus cleanliness were three other related issues that were considered prior to moving forward with the policy.   
The project team members are tasked with policy development, communications and awareness strategies, health and wellness incentives and issues, designing an enforcement program, as well as identifying facility and grounds issues as related to this new policy. 
By Mike Mastrota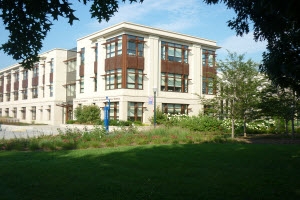 School of International Service
At their recent annual ceremony, the Landscape Contractors Association of Metropolitan Washington awarded American University with their highest level of recognition, the Grand Award, for the School of International Service landscape. In front of several hundred landscape professionals, the prestigious award was accepted graciously by our own Stephanie Destefano and Mike Mastrota.
This is the second year in a row that AU has been recognized by this organization. Last year, the Kogod landscape also was a recipient of a similar award for excellence.
The SIS landscape project is a great example of team work between the Office of the University Architect, Facilities Management's Grounds Department, and the School of International Service. The design and installation of the landscape was implemented primarily with in-house staff and supplemented by contracted labor only as needed.
When notified of the award, former Dean of SIS and champion behind the building, Lou Goodman, had this to say:
"Working with AU's landscape professionals to design the gardens and landscape for the new SIS Building was a genuine pleasure. Over the course of the three years that we worked on the project, all of the members of AU's landscape design staff in the Office of the University Architect worked closely with SIS faculty, students, and staff to create a landscape which meets aesthetic, functional, environmental, and cross cultural standards at a high level. The result is an environment which the AU community uses and enjoys intensively, which inspires with its beauty, which incorporates Korean landscape design elements to give it a multi-cultural feel, and which uses plants and settings to create a remarkably sustainable garden. I am delighted that the Landscape Contractors Association of Metropolitan Washington has granted AU its Grand Award for our project. I am very proud of the landscape we created and even more proud of our collaboration and continuing cooperation."
The project was attractive to the panel of judges because it includes many sustainable features, is associated with a LEED gold building, and is a pilot project for the Sustainable Sites Initiative (SITES).
One of the green features is the way that the project handles storm water. Virtually all of the stormwater (98 percent) hitting the site either is captured for reuse in the 60,000-gallon cistern or is filtered through a series of green roofs, rain gardens, vegetated buffers, and bio-retention basins. This is a huge improvement over the previous surface parking lot where 68 percent of the site water hit impervious paving and was left unfiltered.
Chris O'Brien, AU's Director of Sustainability, noted:
"Our landscaping is one of the most visually engaging ways that AU demonstrates our sustainability. In particular, the grounds surrounding the School of International Service are both visually stunning as well as light on the environment. I really have to hand it to our landscape architects and groundskeepers for leading the way to a more sustainable AU."
The Korean influence on the landscape expands and links a long-standing relationship between the school and the Korean government. The landscape incorporates many plants native to Korea, and features several hand-carved stone "grandfathers" (Harubang) given as a gesture of friendship by the Korean government. A grove of Korean cherry trees was recently salvaged and moved to the site to connect the new project site to the location of historic cherry trees given by the Korean government in 1943.
The American University Arboretum and Gardens continues to look for other award opportunities. These types of awards bring lots of attention and provide publicity promoting AU to audiences who may not be familiar with our campus.
By Jerry Gager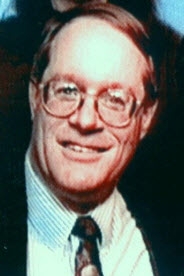 Jerry Gager, Director - Office of University Architect
Greetings from Wisconsin Avenue!
Transformation.
Change is inevitable. We cannot grow and excel without change. Organizations evolve and stay true to their vision. Facilities change and improve the lives of the community.
American University is in the midst of the most significant facilities changes that we have ever seen. Changes that we have been talking about for thirty-plus years are now being realized. The long, long overdue remodeling and renovation of the McKinley Building is in construction. Soon after I arrived here 28 years ago, I walked a design firm through McKinley. They were fascinated by the challenge of breathing new life to the building. All of the firms that walked through McKinley since then have asked for the opportunity to transform the building. Bowie-Gridley, the design firm for the current remodeling, was in the right place at the right time with the right credentials and a winning proposal. That change is now becoming a reality. However, it isn't the first long-standing dream that became a reality.
It was the dream of the Athletics Department to move their athletic facilities from the Cassell Building, located where Katzen was built, to a new, much larger building. It took 40 years for that dream to come true in 1987 when the Sports Center opened. Speaking of Katzen, there were a number of designs for new art and performing arts buildings and additions. The construction of Greenberg Theatre and Katzen Arts Center changed the campus.
Back in the '80s, the future home of the Washington College of Law was thought to be Tenley Campus, but the Washington Semester program took its place on Tenley Circle. The law school then was approved in the 1989 Campus Plan to be located on the Cassell site, but plans changed when the larger Spring Valley Center on Massachusetts Avenue was offered for sale. Now the law school has outgrown that building and we are well on our way to building a law school campus on the Tenley Campus.  You might say this project came full circle – Tenley Circle.
Centennial Hall was built in 1987 and the main campus residence halls were renovated between 1989 and 1995 with Nebraska residence hall being gutted and rebuilt in 2007. Ward Circle Building, Battelle-Tompkins, and Kogod Building also have received substantial remodeling to the extent of gutting and rebuilding the interiors and refacing the exteriors. Many projects have been completed in Mary Graydon Center. In total, the entire campus has been transformed since the early 1980s.
It's difficult not to be nostalgic when the person most responsible for these changes is about to retire, Jorge Abud. Together with Don Myers' vision, Jorge has led the teams that transformed the campus facilities during his 33 years at American University. He has led the Facilities organization through numerous organizational and personnel changes. He inspired the Facilities vision.  He led the university through Campus Plan approvals, balancing the needs of the university with the rights of our neighbors. He has done these things with steady professionalism and great attention to detail, working many long hours. Jorge's dedication has been inspirational to all who have been fortunate enough to report to him.
Jorge always made the Directors feel that they worked with him, not for him. I am honored to have worked with him and will miss him when he retires. There will be another "Jorge" hired to do his job, but they will not be able to take his place.
Change is here. Does this have something to do with the end of the Mayan calendar?
By Sara Schwartz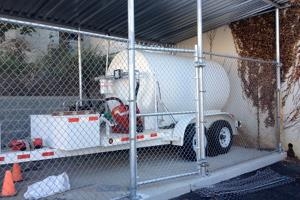 Storage tank fills AU's nine shuttle buses with carbon-cutting biodiesel fuel.
After 13 years of planning, the green dream of biodiesel buses at American University is now reality, as AU's entire fleet of nine shuttle buses are set to run on the fuel. Transportation Manager Alef Worku and his team have been working towards this goal ever since it was first proposed in 1999. The shuttles will start with B5 fuel and gradually transition to B20.  The number represents the percent of biofuel used in the biodiesel mixture. Tri-Gas and Oil will deliver the fuel to a thousand-gallon storage tank located near the Osborn Building (see picture). "We've passed a big hurdle," says Worku, "which is getting the tank."
Using biodiesel was a radical idea thirteen years ago. As Worku explained that after a standard for the fuel was developed, people started accepting it as an alternative fuel source. AU's first biodiesel
vehicle was a smaller maintenance vehicle, and it was quickly apparent that the engine ran well without the unpleasant smell usually associated with diesel engines. The decision then was made to convert the entire fleet to biodiesel. Conveniently, no changes needed to be made to the engines themselves, although engine filters must be changed more frequently. The extra maintenance measure will be worth the effort, as the use of B20 fuel will cut 20 percent of the greenhouse gas emissions from the shuttles, getting closer to AU's 2020 carbon neutrality pledge.
In addition to the new fuel, three new buses arrived in January that release lower emissions due to new technologies. Transportation Management also now has a policy of "smart schedules," with the shuttles running on schedules that closely match demand. Even with the new changes, Worku is already looking for new technologies to make transportation at American University more sustainable. Fifteen years ago biodiesel was a joke compared to today's reality," he said, "Hopefully we will eventually have electric buses where we don't have to run any engine." For now, however, AU should be proud of the major accomplishment of shifting to a bus fleet entirely run on biodiesel.  
By Josh Kaplan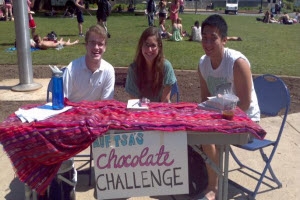 The Fair Trade Student Association hosts the Fair Trade Chocolate Challenge on the quad during Earth Week 2012.
Dream Green in Earth Month 2013
American University Earth Week is now "Earth Month" because seven days is simply not enough to hold all of AU's Earth Day celebrations. As one of AU's largest community events, Earth Month provides an opportunity for campus organizations, clubs, departments, programs, and offices to showcase their own active pursuits of sustainability. Last year, more than 50 events included performances, expert panels, test-driving electric vehicles, hands-on demonstrations and workshops, and academic lectures. One of these events included a keynote lecture given by then-EPA Administrator Lisa Jackson, hosted by the Kogod School of Business. This year, Earth Month will feature a celebration of alternative fuels, the 20th annual Campus Beautification Day, and an all-new Day of sustainable Service open to the campus community. For more information, contact Joshua Kaplan in the Office of Sustainability.
A Crash Course in Green Building
Following the first study group last summer when more than 20 staff members prepared for the LEED Green Associate exam, another crop of Facilities staff currently are readying themselves to earn the professional credential. Leadership in Energy and Environmental Design (LEED) is the predominant green building rating system in North America and is used to certify buildings according to their level of environmental performance. "Green Associate" is a professional accreditation for people who work on green buildings, and demonstrates that the credential-holder has a working knowledge of green design, construction and operations, and of the LEED rating systems. The exam tests on the LEED process, project site factors, water management, project systems and energy impacts, use of project materials, and innovation.
Participants include: Amrong Chey from Auxiliary Services; David Coppedge, Wendy Cunningham, John Danner, Paul Ejim, Nick Gammill, Yaming Ji, EJ Jones, CJ Lucas, George Merchant, Kelvin Richardson, Dennis Smith from FM; Sean Cullinane from OFT; Sara Schwartz from the Office of Sustainability; Rosemary Jalo, Kelly Keegan, Mike Mastrota, Rob Van Hoek, Anna Maria Vincent from OUA; Delis Benitez, and Walter Labitzky, Tony Roane, Jose Suarez from WCL.
The timing is perfect for AU staff members to learn more about LEED, as AU's green building policy requires that all new construction, including the McKinley Building remodel, Nebraska Hall addition, Cassell Hall, and other upcoming projects be constructed to at least LEED Silver standards. Moreover, AU is working to LEED-certify 25 existing buildings on the main campus. Full-time staff members interested in studying for this valuable professional development opportunity should e-mail Emily Curley at curley@american.edu for information about future course offerings.
By Ben Bishop
Staff Discounts
The AU Campus Store offers a 10 percent discount to faculty and staff on most items when university ID is shown during check out. A 20 percent discount is offered to faculty or staff using a purchase card to buy supplies or other items for their department.
Dining Services offers a 15 percent discount with the use of Dining Dollars at Pronto, Greens, Salsa, Tavern, Eagle Express, Eagle's Nest, and TDR, and a 10 percent discount with the use of Dining Dollars at Einstein's and Subway.
http://www.american.edu/finance/auxservices/discounts.cfm
Save the Date: Staff Appreciation Week May 20 - 24
Tuesday, May 21 -

Staff Performance Awards Luncheon, Katzen Rotunda
Wednesday, May 22 - 

Twenty-Year Club Celebration, Katzen Routunda
Thursday, May 23 - 

Staff Volleyball Tournament, and Barbecue, Freidheim Quad
Visit the Staff Appreciation web page for a complete list of events and additional discounts and promotions. http://www.american.edu/staffappreciation/index.cfm
Eagle Eyes Secret Shopper Program
Get Reimbursed up to $15 for meals and retail purchases.
As a source of additional revenue for the university, we want to see our retail tenants do well on campus. We realize that this cannot happen without excellent customer service. Therefore, we have implemented the Eagle Eyes Secret Shopper program to solicit the experiences and evaluations of students, staff, and faculty to improve the services provided by the food vendors on campus.
Participants may shop up to five times a semesters and receive reimbursements of $75.
For more information, contact Ben Bishop at bbishop@american.edu. Enter "Eagle Eyes" for subject.
Wagshal's to Open New Location at 3201 New Mexico Avenue
Washington, D.C.'s Wagshal's Family of Fine Foods will open Wagshal's On New Mexico at 3201 New Mexico Avenue, N.W. The new street-front location in Wesley Heights near American University is slated to open in April.
Wagshal's on New Mexico will provide area residents the same trusted butchery, prepared foods, and sandwiches, including Wagshal's famous Brisket sandwich, as well as a custom bakery featuring freshly made artisanal breads and handmade pastries from Wagshal's own central kitchen.
The 4,000 sq. ft. location will offer fresh market options to include local and organic produce and fresh seafood. Patrons will be able to create their own custom sandwiches as well as salads from a self-serve Chopped Salad Station, and select delicious homemade hot food items from a Hot Food Bar – all "Wagshal's"quality, ready-to-go choices for easy take out, or for a meal to be enjoyed on the premises. Wagshal's On New Mexico will feature indoor eating and an outdoor patio for casual dining, as well as one-hour free customer parking. wagshals.com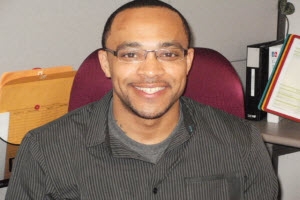 Jeffery Atkins, Staff Assistant - Facilities Operations
Since our last newsletter in the fall, Facilities has welcomed eleven new staff members. New to our team are:
Jeffery Atkins - Staff Assistant
Cesar Caicedo - Carpenter
Tony Hollinger - Director, Facilities Operations
Damon Jenkins - Electrician
Michelle Lockerman - Materials Specialist
Francis Pan - Construction Manager
Celina Ryan - Facilities Training Coordinator
Ransom Schutt - Turf Technician
Josey Schwartz - Commissioning Coordinator
Carl Spence - Electrician
Oswaldo Velasquez - HVAC Maintenance Technician