By Mike Mastrota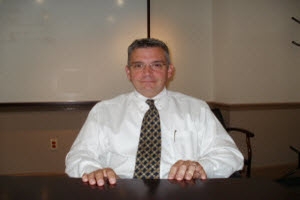 David Dower - Assistant Vice President, Planning and Project Management
Filling the shoes of Jorge Abud is a huge task. Abud had been with American University for 33 years and was well respected throughout the community. He retired in March of this year leaving the position to be filled by someone who could take on the massive responsibilities as well as a construction project that was well under way. That might be enough to scare some people away. Luckily for AU, David Dower, a seasoned real estate and university development professional, viewed the task as a challenge worth tackling.
With a bachelor's degree in Architecture and a master's degree in Urban Affairs, David began his career on staff at Harvard University. He spent several years in Massachusetts working at both Harvard University and Williams College. Next, David switched to the west coast and took a job as the Vice President of Planning and Construction for Harvey Mudd College in Claremont, California.
David and his family missed the east coast and were looking for the right opportunity to move back. When the opening at AU came to his attention, David knew that he could handle the demands of the job.
David started at AU on April 15 and spent April 16 meeting lots of people and experiencing Campus Beautification Day for the first time. He still is learning how to get around campus and trying to remember the various building names. To help familiarize himself, David parks his car in the morning and then rides an AU shuttle or simply walks to all of his meetings throughout campus. This gives him a chance to learn the lay of the land and meet new people along the way. He notes that everyone he has met shares a willingness to work through issues effectively. He believes that it is important that during this busy time we should all work together to get the job done.
In the four short months since arriving, David has taken the helm of the four major capital projects that are under construction currently, including Cassell Hall, Nebraska Hall, McKinley renovation, and 4401 Connecticut Avenue. David notes that his initial impression of AU is that the current pace of work is not our normal mode of operation and he senses the tensions of getting these projects completed on schedule. He says that he looks forward to September when things will ease a bit as construction of the two residence halls is completed and the buildings become occupied.
David looks forward to having more time in the fall to get to know the people in each of the offices. Right now, like all of us, he is trying to put out the daily fires that arise unexpectedly, and has not had much of a chance to look ahead to schedule future social events.
When things settle down, David plans to look at all of the tools that we use such as PM Web, our spreadsheets for project development, and our standard contracts. He wants to determine our "best practices."
One fire David already has battled is the RFP and contract for the East Campus project. David has a great deal of experience with contracts and values their importance. He made several needed improvements to the AU contract that will help protect the university.
David pointed out that he approaches projects from a different angle than some managers. He stresses that scoping, budgeting, and scheduling are important and the status of each project should be watched carefully at all times to have a successful outcome.
In his spare time, David has begun looking into the local housing market and is anxious to settled down and reunite with his wife and two daughters who are still back in California.
If you see David on campus, take the time to introduce yourself and welcome him to American University.