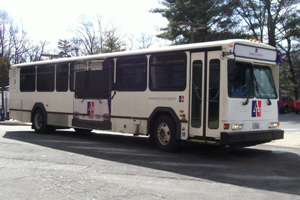 American University's shuttle services provide students, faculty, staff, and guests with a convenient means of traveling between campus, the Washington College of Law, and the Tenleytown Metro station.
AU Shuttle Service Semester Schedule
We operate three different routes: Red, White, and Blue. For complete schedules and routes, click our links below.
Blue Route (Main Campus-Metro)
White Route runs evenings during Summer Session & Spring/Fall Break ONLY (Main Campus-Metro-WCL Super Loop)
Running on Biodiesel
AU's shuttle buses and other diesel-powered equipment are fueled using a B20 biodiesel blend (20% biofuel, 80% diesel). Biodiesel helps the university save emissions, money, and time spent refueling as the biodiesel tank is right on campus.
Where's the Bus?
View real-time GPS data for all blue buses
Download the Street Eagle App on your smartphone to track the shuttle bus!
How's my driving?
Call 202-885-3145 to comment on any of our shuttle drivers.