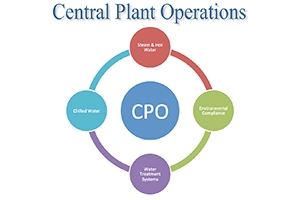 Central Plant Operations is the largest unit under Energy and Engineering. Its licensed staff operates and maintains the campus' steam generation, heating, hot water, and chilled water utility systems ensuring that they remain safe, efficient, and reliable in accordance with all federal, state, and local regulations and compliance requirements.
The main steam plant, located in the Asbury building, has a capacity of 110,000 pounds of steam per hour. Central Plant Operations generates about 88 million pounds of steam each heating season.
Central Plant also operates more than 20 chillers (and their associated cooling towers) with the capacity to generating 5,000 tons of cooling.
The Central Plant team operates 24 hours a day, 365 day a year to support the campus community. After hours calls are directed to 2FIX (2349) hot line. Staff members make sure that any critical building, utility, or facility infrastructure concerns are investigated and are addressed as appropriate so that emergencies do not develop or escalate.