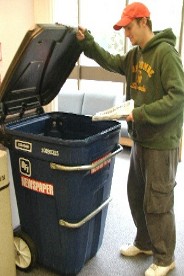 How can I participate in AU's recycling program?
Develop a routine in your office or resident hall room by sorting office paper (mixed paper), newspaper, bottles-plastic-cans, and trash. We recommend at least two containers, one black (lined with clear plastic) and one blue (no liner). The black container is for trash and the blue container is for office paper (mixed paper). Newspaper and bottles/plastic cans may be placed into corridor containers as needed. Smaller "saddle baskets" can be used for those interested in sorting newspaper and bottles/plastic cans in their office or residential room.
Supply a recycle container (preferably blue with no liner) next to your copier and/or fax. Better yet – take the paper that is less than perfect or used on one side and reuse the other side for memo pads or less critical printing.
Place used corrugated cardboard next to any recycling station (break down boxes until they are flat). The cardboard will be taken to a large exterior container by housekeeping.
More Recycling Information:
All of our recycled materials are taken to a MRF (Materials Recycling Facility). At the MRF these materials are sorted, grouped and transported again for reprocessing into usable products.For questions relating to American University's recycling program call Mark Feist on Ext. 2348.
Are there other ways to recycle on campus?
Absolutely! There are clothes recycling centers at the halls of McDowell and Letts-Anderson where students can give away clothes they no longer need or want.