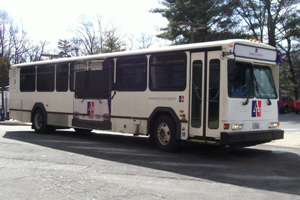 American University's shuttle services provide students, faculty, staff, and guests with a convenient means of traveling between campus, the Washington College of Law, and the Tenleytown Metro station.
AU Shuttle Service Summer 2014 Schedule
Click Here for Summer 2014 Shuttle Schedule
Shuttle Stop Changes Due to Construction
Starting July 21, 2014 to August 4, 2014
Due to construction at south campus and the temporary tunnel closing, the South Campus AU shuttle bus stop will be moved from Letts/Anderson to McKinley. The Blue Route will operate on a modified route. 
During this time: 
There will be no service to and from Kogod bus stop.

White route (Superloop ) service will start at 7 p.m., Monday - Friday.  
Ward Shuttle Stop will remain in service.
AU Shuttle Service Semester Schedule
We operate three different routes: Red, White, and Blue. For complete schedules and routes, click our links below.
Blue Route (Main Campus-Metro) - Tenleytown Metro Station - Tenley Town Shuttle Stop Location Has Moved
Beginning Saturday, June 7, the American University Blue Line Shuttle bus stop at the Tenley Town Metro station will be relocated about 75 feet north of its current location at the corner of 40th and Albemarle Streets. This move will alleviate the current pedestrian and Metro bus congestion that often occurs at peak ridership periods throughout the day.
White Route runs evenings during Summer Session & Spring/Fall Break ONLY (Main Campus-Metro-WCL Super Loop)
Running on Biodiesel
AU's shuttle buses and other diesel-powered equipment are fueled using a B20 biodiesel blend (20% biofuel, 80% diesel). Biodiesel helps the university save emissions, money, and time spent refueling as the biodiesel tank is right on campus.
Where's the Bus?
View real-time GPS data for all blue buses
Download the Street Eagle App on your smartphone to track the shuttle bus!
How's my driving?
Call 202-885-3145 to comment on any of our shuttle drivers.