In the Community
2011 Campus Plan Begins To Take Shape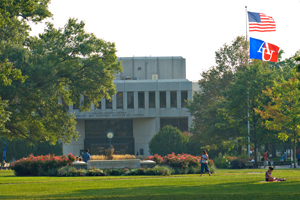 American University's 2011 Campus Plan is taking shape with some significant and exciting possibilities planned for the next decade. At the top of the list of the university's priorities are more high-quality on-campus student housing and a new home for the Washington College of Law on AU's campus in the revitalizing Tenleytown corridor.  
AU, like all universities in the District of Columbia, is required to submit a new Campus Plan every ten years. The 2011 Campus Plan is essentially a facilities plan, which by law must cover any and all building that may take place during the next ten years, and must be approved by the DC Zoning Commission. The 2011 plan is being designed to provide facilities that match our commitment to being a university of distinction; make better use of the current campus land to build for the future; and employ green development strategies.  
AU recently completed a comprehensive Strategic Plan for the future, and the Campus Plan will support the university's larger strategic objectives.  
"American University is pursuing its long-standing educational mission with a strategic plan that emphasizes significant improvements in quality with only modest growth," said President Neil Kerwin. "We will enhance the current physical plant to ensure that our faculty, students, staff, alumni, and friends have appropriate facilities to support their important work and interests. It is our intention to make these changes – and conduct all of our activities – in a manner that brings minimal disruption and substantial benefit to our many communities of interest."  
Having recently adopted a Green Building Policy, AU also plans to continue its commitment to using sustainable, green development principles, as we build new facilities to accommodate our projected growing needs, further bolstering our status as the greenest urban campus in the region.   
In addition to housing and law school developments, the emerging Campus Plan also supports improvements in graduate and professional programs and an increased focus on our science programs.  
New Housing: Keeping Students Connected to Campus Life  
AU wants to enhance the student experience by providing a competitive and technologically-advanced academic environment that is commensurate with a vibrant campus life. During the past few years, we have expanded and enhanced many of our academic facilities. Our new Campus Plan priorities will focus on building student housing that meets our current and projected needs for the next decade.  With proposed housing that is attractive to students and their parents, and is incorporated aesthetically into our existing campus and community, the Campus Plan seeks to connect more students to the pulse of campus life and provide a stronger on-campus experience.  
Specifically, the Campus Plan concepts propose transforming the current Nebraska Avenue parking lot into a new quad of planned development that includes student housing as well as possible retail and community-related amenities. The new housing will help address current needs – including de-tripling freshmen housing and bringing more students to live on campus – and modest undergraduate enrollment projections for the next decade. Additional housing needs would be met with a proposed expansion of Nebraska Hall and more residence halls to be built on campus.  
Washington College of Law: Facilities to Match a Nationally Recognized Program  
The proposed new Washington College of Law facilities would be located on the Tenley Campus, within a short walk to the Tenleytown-AU Metro station. The current law school is located in a reconfigured office building and students shuttle between the Metro station and the Spring Valley site. A move to Tenley would represent AU's commitment to utilizing smart urban planning concepts. By making the law school more accessible in space that accommodates its programs, the proposed Tenleytown site provides an opportunity for stronger future ties between AU and neighboring schools, community, and the city while having a positive economic impact on the corridor.  
Inclusive Process
All universities go through the Campus Planning process which typically prompts questions on-campus and concerns in the immediate vicinity about the perceived impact of any site changes. To review community questions and potential concerns regarding the 2011 Campus Plan, AU formed a Campus Plan task force, consisting of about three dozen neighborhood representatives that began meeting regularly last July. In addition to regular task force meetings, AU staff members regularly attend local Advisory Neighborhood Commission meetings and other community meetings.   
All ideas will undergo thorough review with campus, community, and city representatives.    
"We want the most transparent process possible and encourage our neighbors to participate in every stage of the development of our new Campus Plan," said Penny Pagano, Director of Community and Government Relations.  
All materials from the task force meetings are available to the public on the Campus Plan Web site. AU will continue open dialogue with the community as the 2011 Campus Plan continues to take shape.  When completed, the plan will be submitted to the DC Zoning Commission, most likely sometime this fall. Following a thorough review and hearings by the Zoning Commission, the newly approved Campus Plan would go into effect next year.