Government & Politics
AU Hosts Night Of Impassioned Debate In The Race For DC Mayor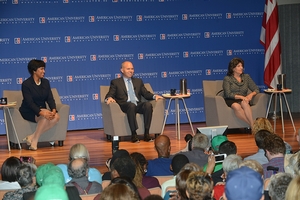 American University hosted the first DC mayoral debate of the 2014 general election campaign season on September 18. Presented in collaboration with the Kennedy Political Union, Palisades Citizens Association, and Ward 3 Vision, the event was moderated by NBC4's Tom Sherwood and featured WAMU's Patrick Madden and Kavitha Cardoza and The Washington Post's Clinton Yates as panelists.
As advertised, the 90-minute event was a "conversation with the candidates," albeit a lively one filled with heated rhetoric between the candidates on their policy differences and a fair share of one-liners at their opponents' expense. Democratic nominee Muriel Bowser and Independent candidates David Catania and Carol Schwartz wasted no time engaging each other before a boisterous at-capacity crowd of more than 200 at the Katzen Arts Center's Abramson Family Recital Hall. Demand for tickets to the debate was so high that additional live-stream viewing locations were set up in the building to accommodate the overflow crowd. Simulcast on the internet, the debate was viewed by more than 3,000 additional people.
Issues of fierce contention between the candidates – especially Bowser and Catania – included education and ethics reform as well as the District's homelessness problem. Bowser promised to expedite school reform and warned that Catania would push "untested and unproven" ideas. Catania dismissed Bowser's ethics reform bill as a compilation of proposals made by other councilmembers, and criticized her work as chairman of the Council's Committee on Economic Development. Meanwhile, Schwartz criticized her two opponents for passing campaign finance reforms that would take effect only after the election.
The candidates did find common ground on the need to craft the strictest possible legislation with regards to DC residents being allowed to carry concealed firearms. Bowser and Catania supported the idea of a stadium for Major League Soccer's DC United team and were open to the idea of Washington hosting the 2024 Olympics. However, Schwartz opposed bringing the Olympics to Washington.
AU President Neil Kerwin noted that, "AU is proud to serve as a venue to host public forums such as this where leading issues of the day can be discussed and debated."
The debate marked the second time in a year that American University played an integral role in the DC Mayoral election process. It also hosted a Democratic debate back in February among six candidates who ran in the April primary election.