Environment
AU Signs Climate Action Pledge, And Attends COP21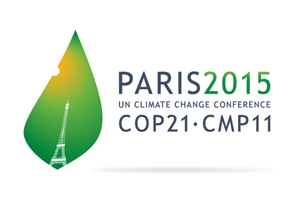 Last November, American University was one of more than 200 universities and colleges to sign the White House's American Campuses Act on Climate Pledge, as a show of support for strong climate action by world leaders at the 21st Conference of the Parties (COP21) in Paris, France.

As a signatory of the pledge, AU redoubles its commitment and efforts to accelerate the transition to low-carbon energy while enhancing sustainable and resilient practices. Prior to signing the pledge, the university already had taken significant action towards the goal of achieving carbon neutrality by 2020. Efforts already in practice include:
Reduction of energy consumption and transportation emissions, usage of renewable power, and the development of carbon offsets;
Promotion of zero waste practices by reducing total waste generation and diverting waste from landfill through composting and recycling;
Greening goods and services by following LEED standards, reduction in the sale of bottled water, support of fair trade and local and sustainable businesses and production; and
Education of campus and local community about sustainability.
With this latest pledge, AU also builds on past commitments such as the Talloires Declaration and Second Nature's Carbon Commitment (formerly the ACUPCC).

"Recognizing the need for proactive movement toward a sustainable future, the higher education community has worked together for more than a decade to create goals, and find creative solutions for the challenges created by climate change. Seeing the international community come together to reach an agreement at the global level is inspiring and exciting, and could eliminate some of the barriers we face at individual institutions in creating change," said Megan Litke, Director of Sustainability Programs.

The COP21 delivered a new international agreement on climate change that commits all participants to keeping global warming below 2°C. According to the Intergovernmental Panel on Climate Change (IPCC), global warming of more than 2°C would have serious consequences, such as an increase in the number of extreme climate events.

Several AU faculty members and students from three different schools attended, conducting research at, and reporting from COP21. Attendees included School of International Service professor Paul Wapner who was there to track negotiations about "loss and damage" – how developed countries will respond to the climate change hardships experienced by developing countries – as well as adaptation and climate justice; School of Public Affairs professor Todd Eisenstadt, who has a National Science Foundation grant on climate change in Latin America titled Lawsuits for the Pacha Mama [Mother Earth] in Ecuador: Explaining the Determinants of New Indigenous Movements to Mitigate Environmental Impacts blogged from COP21; and Washington College of Law students with the Sustainable Development Law & Policy Brief blogged from the adjacent Climate Generations area of the COP21 complex.

University President Neil Kerwin commented, "American University's signing of the American Campuses Act on Climate Pledge and our presence and participation at COP21 yet again demonstrate our commitment to practical idealism, dedication to public service, and global outlook."