Environment
An AU Student at Rio+20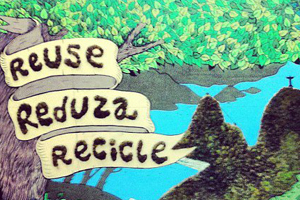 Josey Schwartz, a summer intern with the AU Office of Sustainability and student at the Kogod School of Business, got a front-row view to discussions on the current state of global sustainability when he attended the Rio+20 World Summit on Sustainability last month in Brazil. As a representative of AU, Schwartz was granted an official United Nations conference badge, and participated in both official and unofficial events.
Rio+20 received its name because it was held twenty years after the Rio Earth Summit in 1992. The summit 20 years ago set the stage for a handful of international environmental treaties that would be signed in the years to follow. However, according to Nature, the international journal of science, the various environmental treaties fell short of their goals in areas such as climate change, biological diversity, and combating desertification.
Faced with such daunting challenges, the main purpose of Rio+20 was to bring together civil society, business leaders, heads of state, and other government officials to evaluate current global sustainability goals, the progress being made, and areas in which to make appropriate recommendations for improvement. According to Schwartz, "As a result of the shortcomings of past treaties and the current state of global sustainability, Rio+20 conference goers felt a great deal of pressure to set meaningful goals and find ways to accomplish them."
Rio+20 participants held Sustainable Development Dialogues which ran the gamut from global unemployment to the economics of sustainable development to deforestation to sustainable energy for all. Following the Sustainable Development Dialogues, heads of state convened for three days to discuss how to implement The Future We Want, a document that encapsulates a plan for how to achieve the desired global strides in sustainability.
AU's status as an official nongovernmental organization of Rio+20 allowed Schwartz to interact with a wide spectrum of participants from all over the world. Of his self-financed trip to Rio+20, Schwartz noted, "The knowledge and lessons I learned from the conference have not only helped me to grow personally, but also have renewed my sense of purpose and duty towards sustainability. I return to AU with a more comprehensive understanding of the 'big picture' in relationship to the environment and civil society. I hope to incorporate this new insight both in my contributions to sustainability at AU and in my future endeavors."