Environment
An Environmentally-Friendly Solution To Discard Old Electronics Equipment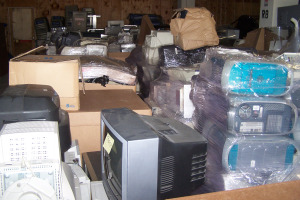 Do you still have a dot-matrix printer or computer equipment dating back to the Reagan administration occupying space in your office? You now can discard old electronics equipment in an environmentally-friendly manner by simply e-mailing AUSurplus@american.edu. Both personal and University-owned electronics will be accepted from any student, faculty, or staff member.
For AU-owned electronics, be sure to provide the equipment brand name, model number, serial number, and AU inventory bar code number so the Department of Procurement and Contracts and OIT can update the University's inventory. The OIT Asset Management team will pick up computers, wipe the data from their hard drives, and salvage any reusable parts before sending the remaining e-waste for recycling.
See Quick Links for a list of accepted electronics items. Equipment that the University does not reuse internally is collected by 2nd Solutions, a company American University has contracted with who specializes in environmentally-friendly electronics waste management. For more information about 2nd Solutions and the importance of proper disposal of electronics equipment and its environmental implications, please see the link to their Web site in Quick Links.