Environment
AU's Arboretum and Gardens Is Now Level II Accredited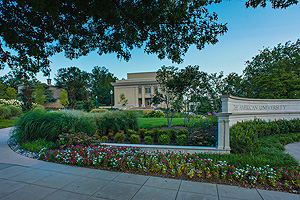 Recently, AU's Arboretum and Gardens was awarded a Level II Accreditation through the ArbNet program. AU's Arboretum now is recognized among other professional public gardens in the Morton Register of Arboreta, a comprehensive nationwide list of organizations that collect and display trees, shrubs, and other woody plants for the benefit of the public, science, and conservation.
According to AU's Landscape Architect Mike Mastrota, "This accreditation helps validate the commitment that American University makes towards being a leader and model of sustainable landscape management. Our campus not only is a beautiful setting, but contributes to the academic mission of the university as a teaching tool and a community resource."
To be recognized and accredited by the Morton Register of Arboreta, AU was required to show that it met certain professional standards of established arboreta. The Register categorizes arboreta on a three-level scale that reflects their development, capacity, professionalism, and ability to participate or collaborate in certain scientific collections or conservation activities.
AU's Level II Accreditation signifies that the university's arboretum includes:
• at least 100 kinds of trees or plants that were planted and grown in accordance with an arboretum plan;
• a collections policy that describes the development and professional management of the plants in accordance with field standards;
• one or more employees whose job responsibilities specifically include management or operation of the arboretum;
• an enhanced educational program and events open to the public; and
• participation in ArbNet, an international initiative to support the work of arboreta in saving and planting trees.
Be sure to visit AU's Arboretum and Gardens. Free guided tours are available upon request or you can take a self-guided tour with the aid of an arboretum brochure and podcast. For more information, visit the arboretum's website, or contact them directly at (202) 885-1145 or arboretum@american.edu.