On Campus
Changes to Weekend Shuttle Routes Nov. 7 – Dec. 6 - Anticipate Possible Delays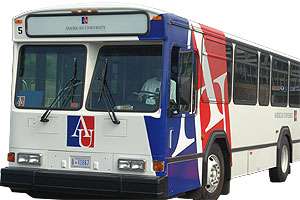 Beginning Saturday, November 7, and continuing each weekend until Sunday, December 6, the AU shuttle routes will change to accommodate the Massachusetts Ave. roadway asphalt paving project.
Shuttle riders are advised to give themselves extra time in the event of traffic delays.
The DC Department of Transportation will only conduct paving work during the weekends. The shuttle routes will remain unchanged during the weekdays.  
Inclement weather may affect the duration of the weekend paving project. Stay tuned for additional updates from Facilities Management as they become available through the DC Department of Transportation.  
See the quick links for the temporary weekend shuttle routes.