Environment
Holiday Shutdown Saves Tons of Energy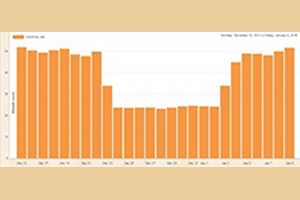 While many of us expended energy enjoying family and friends during American University's recent annual winter holiday break, the university conserved tons of energy by closing down - 315 tons (coal equivalent) to be exact. The reduction was the result of the Facilities Management department's Energy Curtailment program which was conducted between December 24 and January 2.
Initiated in 2012, the program requires university-wide coordination. Heating, Ventilation, and Air Conditioning (HVAC) equipment were set to minimal positions in buildings throughout the campus. Windows, doors, and other accesses were inspected to ensure secure closure. All lights, with the exception of safety and emergency lights were turned off. All sinks and faucets also were inspected to make sure there were no leaks.
Director of Energy & Engineering, David Osborne noted, "Winter Break Energy Curtailment is good practice and quite frankly just plain common sense. Most folks shut off appliances, lights, and set their thermostat back at home when they go on vacation, so why would the university do anything less?"
As a result of this comprehensive curtailment effort, the university saved 504,192 kilowatt-hours (kWh) of electricity and 45,259 therms of natural gas. This means that ten days of curtailment energy savings – more than to 1.8 million kWh – were three times greater than last year's total annual electricity production from AU's onsite solar panels.
To put it in another context, AU's energy savings were equivalent to the same clean air benefits that 482 acres of U.S. forests provide in a year– a forest that size is roughly six times the size of AU's campus.
The Energy Curtailment program is one of the ways that Facilities Management is able to reduce the university's energy use and utility expenditures while supporting AU's other missions like its strategic commitment to achieve carbon neutrality by the year 2020.
Energy savings have improved during each of the past four years that the Energy Curtailment program has been implemented. The success can be attributed to the continuous efforts of many students, faculty, and staff across campus. Facilities Management plans to continue its efforts to look for ways to save even more energy in the years to come.