On Campus
Expect improved campus shuttle bus service
Reorganization, consolidation, operations study lead to service improvements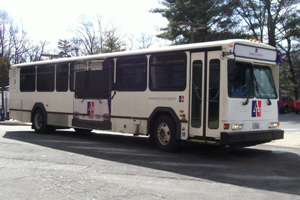 Just in time for the fall semester, Facilities Administrative Services (FAS) announces enhancements to the shuttle bus service throughout the American University campus. 
Beginning Friday, August 28, there will be more frequent shuttle service during peak hours, Monday through Friday, between 7 a.m. and 8 p.m. To reduce waiting time, an additional bus has been added to the fleet, bringing the total number of buses running to six, during peak hours.  Two routes (Washington College of Law to Tenleytown Metro and Main Campus to Tenleytown Metro) will operate during peak hours. A "super loop" route which completes a circuit between main campus, Tenleytown Metro Station, and Washington College of Law will operate exclusively during non-peak hours and weekends.
These improvements mark the beginning of a plan for continued enhancements for shuttle operations. Future improvement efforts will be based on the evaluation of ridership data, incorporation of transit technology upgrades, and solicitation of rider feedback.  
The latest service improvements are the result of an FAS reorganization and consolidation effort that included the recruitment of a new Manager of Transportation Operations and Maintenance and a comprehensive shuttle operations study conducted by Solstice Transportation Group, an independent consulting firm. Recommendations and suggestions for improvements were also solicited from AU student groups and government officials, Washington College of Law representatives, and shuttle drivers.  
Mark Feist, assistant director of Facilities Management said, "I am excited about working with our new team and incorporating the changes we've made into our day-to-day operations."  
The shuttle schedule changes will go into effect on Friday, August 28.   
For shuttle schedule information, visit http://www.american.edu/finance/facilities/shuttle.cfm.  If you have any questions or comments, e-mail shuttle@american.edu or call 202-885-3111.